New reviewer recruitment

Cancer Cell International invites you to join our team of reviewers in assessing manuscripts. For consideration, please send your CV to aoife.buckley@biomedcentral.com.

Aims and scope
Cancer Cell International publishes articles on all aspects of cancer cell biology, originating largely from, but not limited to, work using cell culture techniques. Read more here.
We are pleased to announce a new cross-journal thematic series on 'Precision Oncology' across a number of BMC journals within the oncology portfolio to help bring together the latest research on precision oncology.

The thematic series is now open for submission of original research and review articles - for further information about this series please click here.
Top reviewers of 2018
A peer-reviewed journal would not survive without the generous time and insightful comments of the reviewers, whose efforts often go unrecognized. Although final decisions are always editorial, they are greatly facilitated by the deeper technical knowledge, scientific insights, understanding of social consequences, and passion that reviewers bring to our deliberations. For these reasons, the Editors and staff of Cancer Cell International would like to publicly acknowledge our top peer reviewers of 2018.

Junfeng Bi, University of California at San Diego, USA
Dongjiang Chen, University of Florida, USA
Jie Ding, M.D. Anderson Cancer Center, USA
Taronish Dubash, Harvard Medical School, USA
Peeyush Goel, University of Pennsylvania, USA
Yu Han, Harbin Medical University, China
Shreya Kulkarni, Rubius Therapeutics, USA
Catherine Lewis, Norton Community Hospital, USA
Hao-yu Lin, Shantou University, China
Shengchen Lin, Penn State University, USA
Chang Liu, University of Rhode Island, USA
Shubhashish Sarkar, University of Texas Medical Branch, USA
Daniele Vergara, University of Salento, Italy
Chong Wang, Harvard Medical School, USA
Zehua Wang, University of Pittsburgh, USA
Go J. Yoshida, Juntendo University, Japan
Chen Zhang, M.D. Anderson Cancer Center, USA
Hui Zhang, Stanford University, USA
Editor-in-Chief
Domenico Coppola, Moffitt Cancer Center and Florida Digestive Health Specialists, USA

Spotlight: Associate Editor
Giuseppe Ingravallo
Dr. Giuseppe Ingravallo is Assistant Professor of Pathology at Medical School of the University of Bari Aldo Moro (Italy). His research mainly comprises hematopathology, Sjögren syndrome, pathological osteoclastogenesis, and gastrointestinal carcinogenesis. Dr. Ingravallo is currently studying the prognostic role of the tumor microenvironment (i.e. T cells, mast cells, endothelial cells etc.) in different lymphoma subtypes.
Spotlight: Editorial Board
Christian Stock

Dr. Christian Stock studied biology and chemistry at the Universities of Oldenburg, Bonn and Osnabrück (Germany), and holds a diploma in plant cell biology and a PhD in animal physiology. After postdoc positions at the Universities of Heidelberg and Hawai'I, he specialized in human physiology (Würzburg, Münster) and then joined the Dept. of Gastroenterology, Hepatology and Endocrinology at Hannover Medical School. Dr. Stock is interested in how ion transport processes across cellular membranes are involved in osmoregulation, cancer cell motility (migration and invasion), cell differentiation and malignant transformation, and how ion transport may create typical, locally limited pH-microenvironments in the cytosol and at the cell surface that regulate cell/cell and cell/matrix interactions.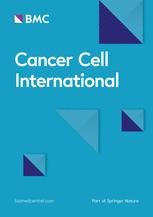 Follow
On the blog
Institutional membership
Visit the membership page to check if your institution is a member and learn how you could save on article-processing charges (APCs).