Primary research

Open Access
Inhibition of the angiogenesis and growth of Aloin in human colorectal cancer in vitro and in vivo
Cancer Cell International
2013
13:69
Received: 8 April 2013
Accepted: 24 June 2013
Published: 12 July 2013
Abstract
Background
Angiogenesis has been an attractive target for drug therapy. Aloin (AL), an natural compound derived from Aloe barbadensis Miller leaves, has been shown to possess anti-cancer potential activities. However, its roles in tumor angiogenesis and the involved molecular mechanism are unknown.
Method
To evaluate the antiangiogenic and anticancer activities of AL, endothelial cell scratch, modified Boyden chamber inserts and tube formation assays were done in HUVECs, and MTT and Live-Dead assays were used to determine the proliferation inhibition and apoptosis induction of colorectal cancer cells in vitro. The inhibition effects of AL were further confirmed by a mouse xenograft model in vivo. The expression levels of STAT3 signaling pathway and that mediated-target genes were measured in HUVECs and SW620 cells by Western blots.
Results
Here, we demonstrated that AL significantly inhibited HUVECs proliferation, migration and tube formation in vitro. Western blotting showed that AL suppressed activation of VEGF receptor (VEGFR) 2 and STAT3 phosphorylation in endothelial cells. In addition, the constitutively activated STAT3 protein, and the expression of STAT3-regulated antiapoptotic (Bcl-xL), proliferative (c-Myc), and angiogenic (VEGF) proteins were also down-regulated in response to AL in human SW620 cancer cells. Consistent with the above findings, AL inhibited tumor cell viability and induced cell apoptosis in vitro, and substantially reduced tumor volumes and weight in vivo mouse xenografts, without obviously toxicity.
Conclusion
Our studies provided the first evidence that AL may inhibit tumor angiogenesis and growth via blocking STAT3 activation, with the potential of a drug candidate for cancer therapy.
Keywords
Aloin
Angiogenesis
Tumor growth
Colorectal cancer
STAT3
Introduction
Colorectal cancer (CRC) is the most common cause of cancer-related mortality, with an estimated over 1.2 million new diagnoses and 608,700 deaths worldwide [1]. Outcomes for patients with advanced CRC remain poor, with the median survival of still less than 20 months [2]. The large number of cases and the continued poor survival rates in CRC underscores the need for new therapy strategy.
The ability of tumors to progress to more malignant phenotypes is dependent on the tumor microenvironment. Angiogenesis, the development of new blood vessels from preexisting vascular bed, plays essential roles in tumor growth, maintenance, and metastasis [3]. At present, inhibition of tumor angiogenesis is considered as a promising strategy for the treatment of cancer [4]. Vascular endothelial growth factor (VEGF) is a potent pro-angiogenic factor crucial for tumor vascular development [5]. Vascular endothelial growth factor receptor 2 (VEGFR2) is the primary receptor of VEGF and the major mediator of VEGF-induced angiogenesis pathways [6].When resting endothelial cells are activated, VEGFR2 signaling activates a number of downstream mediators and allows cells to proliferate, migrate, invasive and finally differentiate to form capillary-like structures [7]. Recently studies showed that among VEGFR2-mediated signaling, especially signal transducer and activator of transcription 3 (STAT3), has been strongly implicated to be the hallmark of a wide variety of human malignancies and is commonly associated with a worse prognosis [8, 9].
STAT3 belongs to a member of latent self-signaling transcription factors in cytoplasm activated by certain cytokines (e.g., IL-6) and growth factors (e.g., VEGF). Upon activation, STAT3 homodimerizes and translocates to the nuclear to subsequently modulates the transcription of responsive genes encoding apoptosis inhibitors (e.g., Bcl-xL, Bcl-2), proliferation regulatory proteins (e.g., cyclin D1, c-myc), and inducers of angiogenesis (e.g., VEGF) [10], which were involved with cell proliferation, survival, differentiation, apoptosis, metastasis, angiogenesis, host immune evasion, and drug resistance [11, 12]. More recently, there is ample evidence in the literatures that interference of constitutive STAT3 signaling successfully results in an inhibition of growth and the induction of apoptosis in tumors [10, 13]. Given the oncogenic function of STAT3 and promise of inhibiting it, directly targeting STAT3 signaling cascade has been an attractive therapeutic target for drug intervention to treat cancer.
Recently agents that inhibited angiogenesis and targeted STAT3 have been identified from plants, with little side effects [
13
–
15
]. Aloin (AL; C
21
H
22
O
9
; Figure
1
A), a natural bioactive anthracycline, derived from
Aloe barnadensis
Miller leaves (also called Aloin A or Barbaloin or10-β-D-Glucopyranosyl-1,8-dihydroxy-3-(hydroxymethyl)-9(10H)-anthracenone;), which was reported to show pharmacological effects, such as anti-inflammatory, antimicrobial, antioxidant activities, anti-virus and anti-cancer potential [
16
]. Studies showed that AL was able to induce cell cycle arrest and apoptosis in various human cancer cells, including breast [
17
], ovarian [
18
], uterine carcinoma [
19
], B16-F10 murine melanoma [
16
], and human Jurkat T lymphocytes cells [
20
]. Moreover, it was also reported to show wonderful healing and softening properties [
21
,
22
], suggesting the potential role of AL in antiangiogenesis. Therefore, these prompted us to evaluate the antiangiogenic and anticancer activities of AL and to fully elucidate its molecular mechanisms with special focus on STAT3 signaling pathway in human umbilical vein endothelial cells (HUVECs) and colorectal cancer cells. In the present study, we report our findings on human colorectal cancer growth suppressive activities of AL, its efficacy in inhibiting constitutive STAT3 signaling
in vitro
, and the effects on the processes of tumor angiogenesis and growth
in vivo
.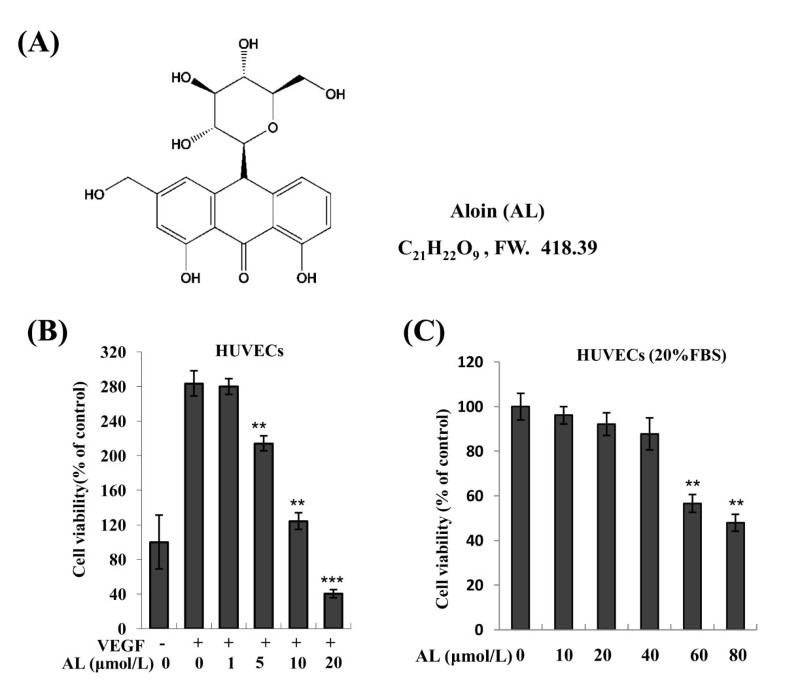 Materials and methods
Reagents
AL (purity > 97%) was purchased from Sigma (St. Louis, MO). A 20 mmol/L solution of AL was dissolved in DMSO, and stored as small aliquots at -20°C. Recombinant human VEGF165 was purchased from R&D Systems (San Diego, CA). Antibodies against VEGFR2, STAT3, c-Myc, Bcl-xL, Anti-VEGF, β-actin and phospho-specific anti-VEGFR2 (Tyr1175) and anti-STAT3 (Tyr705) were obtained from Santa Cruz Biotechnology (Santa Cruz, CA).
Cell culture
Human umbilical vascular endothelial cells (HUVECs) were from Sciencell (Carlsbad, CA, USA) and cultured in M199 (Invitrogen, Carlsbad, CA) supplemented with 20% fetal bovine serum (FBS). HUVECs were used within passages three to six. Human colorectal cancer cell lines (SW620, HCT116) were purchased from the China Center for Type Culture Collection (Shanghai, China). The cells were cultured according to the supplier's instruction, at 37°C, 5% CO2.
Cell viability assay
Briefly, HUVECs (5 × 103 cell/well) were seeded onto 0.1% gelatin coated 96-well plates and allowed to attach overnight. After being starved for 7–9 h in M199 containing 1% FBS, the cells were exposed to various concentrations of AL (1, 5, 10, 20 μmol/L ) with or without VEGF (50 ng/mL) for 72 h. Human colorectal cancer cell lines SW-620 and HCT-116 (4.5 × 103 cells/well) were directly treated with AL, respectively. Cell viability was measured by MTT assay. The number of viable cells in treated wells relative to those in control wells gave the percentage of inhibition. Experiments were done in triplicate.
Endothelial cell migration assay
The migratory activity of HUVECs was assessed using the scratch assay, as previously reported [23]. Briefly, a narrow area on the confluent HUVECs monolayers in 6-well plates were scratched off with a p200 pipette tip. After washing, cells were treated with indicated concentrations of AL in M199 with 1% FBS and 50 ng/mL VEGF. Cells were allowed to migrate for additional 8–9 h, photos were taken from the same areas as those recorded at zero time and the numbers of the migrated cells were counted.
Transwell invasion assay
The in vitro cell invasion assay was performed in the 24-well plates by using a modified Boyden chamber inserts (8 μm) as described previously with modifications [24].The filter membranes were coated with Matrigel (BD Biosciences, San Jose, CA). A single-cell suspension (200 μl serum-free M199 media with 1% FBS) containing 5 × 104 endothelial cells were treated with AL (1, 5, 10, 20 μmol/L) and loaded into the upper chamber. A 500 μL culture medium (1% FBS, 50 ng/mL VEGF) was added to the lower wells of the chamber. After incubation for 8h at 37°C in 5% CO2, the migrated cells were fixed and stained with 0.1% crystal violet. Invasiveness was determined by counting the cells that have migrated through the filter. Experiments were performed in triplicates.
Matrigel tube formation assay
HUVECs were harvested with trypsin, resuspended in 300 μl basic endothelial cell culture medium at a density of 5 × 104 per well and pretreated with AL (1, 5, 10, 20 μmol/L) for 1h with or without VEGF(50 ng/mL) before plating onto the 48-well unpolymerized Matrigel-coated plates. After approximately 9–11 hours of incubation at 37°C in 5% CO2, tube formation was photographed and quantitatively analyzed in randomly chosen microscopic fields (Nikon; original magnification, ×40), by counting the number of tube-like structures formed by connecting endothelial cells. The data presented represent the average of triplicate experiments.
Live/Dead assay
Apoptosis of cells was also determined by Live/Dead assay (Invitrogen), which was used to measure intracellular esterase activity and plasma membrane integrity as described elsewhere [15].
Western blotting analysis
To determine molecular mechanism of AL on VEGF-dependent angiogenesis signaling pathway, western blot analysis was performed to detect key proteins involved in the biological functions of endothelial cells and cancer cells. HUVECs were first starved in serum-free ECM for 7 ~ 9 h and then treated with various concentrations AL as indicated in the figures, followed by stimulation with 50 ng/mL of VEGF for 5 ~ 20 min. However, tumor cells were exposed to AL for different duration under the normal culturing conditions. Total cell lysates preparation and Western blot analysis were performed according to the procedure described before [25]. In brief, equal amounts of protein (40 μg) were resolved on (6%-12%) SDS-PAGE, electro transferred onto PVDF membranes, probed with specific antibodies and then detected by chemiluminescence system detection kit (Cell Signaling, Beverly, MA).
Subcutaneously Xenografted mouse model
All animal experiments were carried out in accordance with a protocol approved by the Institutional Animal Care and Use Committee (IACUC). Briefly, 4 × 106 cells SW620 cells were implanted to 6-wk-old male athymic nude mice in the right flank region. After tumors (100–150 mm3) had established, the mice were randomly assigned into two treatment groups containing control and 20 mg/kg of 6 individuals in each by daily oral treatment of AL for consecutive 27 days. The mice of control group were administrated with same amount of pure refined corn oil. Tumor volume was determined by measuring the major (L) and minor (W) diameter with a caliper, and calculated in length × (width2)/2. The tumors were excised and weighed after termination of experiments.
Histology and immunohistochemistry
Tumor were removed and processed for paraffin embedding. Immunohistochemical analysis with anti-CD31 antibody and in situ terminal deoxynucleotidyl transferase dUTP nick end labeling (TUNEL) staining were applied on the 5-μm sections. Images were taken using a Leica DM 4000B photo microscope (Solms, Germany; magnification, 400×).
Statistical analysis
All results are expressed as the mean ± s.d. S tatistically differences between the samples were examined by two-tailed Student's test. A P value <0.05 was considered to be statistically significant.
Conclusion
AL may represents one safe, affordable and orally active drug applied in clinical practice for cancer prevention and therapy, even at high doses. In the future, experimental as well as clinical studies e.g. regarding the combination of AL and conventional chemotherapeutics will further elucidate its therapeutic value in human colorectal cancer.
Authors' Affiliations
(1)
Department of Medical Oncology, Sir Run Run Shaw Hospital, College of Medicine, Zhejiang University, Hangzhou, China
(2)
The First Affiliated Hospital, College of Medicine, Zhejiang University, Hangzhou, China
Copyright
© Pan et al.; licensee BioMed Central Ltd. 2013
This article is published under license to BioMed Central Ltd. This is an Open Access article distributed under the terms of the Creative Commons Attribution License (http://creativecommons.org/licenses/by/2.0), which permits unrestricted use, distribution, and reproduction in any medium, provided the original work is properly cited.