Three steps to the immortality of cancer cells: senescence, polyploidy and self-renewal
Cancer Cell International
2013
13:92
Received: 19 May 2013
Accepted: 24 July 2013
Published: 11 September 2013
Abstract
Metastatic cancer is rarely cured by current DNA damaging treatments, apparently due to the development of resistance. However, recent data indicates that tumour cells can elicit the opposing processes of senescence and stemness in response to these treatments, the biological significance and molecular regulation of which is currently poorly understood. Although cellular senescence is typically considered a terminal cell fate, it was recently shown to be reversible in a small population of polyploid cancer cells induced after DNA damage. Overcoming genotoxic insults is associated with reversible polyploidy, which itself is associated with the induction of a stemness phenotype, thereby providing a framework linking these separate phenomena. In keeping with this suggestion, senescence and autophagy are clearly intimately involved in the emergence of self-renewal potential in the surviving cells that result from de-polyploidisation. Moreover, subsequent analysis indicates that senescence may paradoxically be actually required to rejuvenate cancer cells after genotoxic treatments. We propose that genotoxic resistance is thereby afforded through a programmed life-cycle-like process which intimately unites senescence, polyploidy and stemness.
Keywords
Tumour cells
DNA damage
Senescence
Polyploidy
Self-renewal
Reprogramming
Totipotency
Resistance
Introduction
Accelerated cellular senescence (often simply termed 'senescence') has been enigmatic since its first description. It was initially defined as an irreversible growth arrest induced in proliferating cells by a variety of stress stimuli, the most important being telomere attrition, DNA damage [1] and oncogene activation [2]; the latter two paradoxically representing cancer inhibiting and promoting responses, respectively. The biology of senescence and cancer are clearly closely related, although their inter-relationship remains poorly understood [3, 4]. Currently, the complex regulation of these processes is thought to occur at the interface of signalling pathways involved in growth-arrest (p16INK4a/Rb and p19ARF/p53) and promotion (mTOR) [2, 5, 6].
Phenotypically, the features of accelerated senescence overlap with those of replicative senescence caused by telomere shortening; namely enlarged and flattened cell shape, increased cytoplasmic granularity, polyploidy, and expression of senescence-associated β-galactosidase (SA-β-gal) [7, 8]. Hypertrophic senescent cells are also immunomodulatory and secrete cytokines [4]. Perhaps paradoxically, senescent cells can be cleared by CD4+ T cells and macrophages; however, if the immune response is suppressed, cancer develops [9, 10]. The question then arises: Why do senescent cells which do not proliferate, pose a cancer risk and require elimination? This raises the possibility that at least a proportion of these cells can revert from terminal senescence [11]. In this article we review the recent evidence supporting this possibility and provide a hypothesis for the molecular and biological basis for how reversion may occur through induced polyploidy and reprogramming for totipotency.
Conclusion
The failure of current cancer treatments to successfully eradicate metastatic disease, likely results from a misunderstanding of the natural history of cancer. Rather than seeing malignancy as a consequence of Darwinian microevolution driven by stochastic mutations, it can be considered as the result of a programmed response illicitly accessed by a few key mutations. Thus the focus of research is transferred from the bewildering multiplicity of mutations to the key transcriptional programme that is accessed and the underlying epigenetics. This programme appears to have been imprinted through evolution to cope with DNA damage and stored in the evolutionary memory of the genome. The mechanisms which gave rise first to reversible polyploidy and then meiosis and sexual life cycles in unicellurians allowing the transition to multicellularity are in some way recapitulated during carcinogenesis. Unfortunately, it appears that the same programme is stimulated in response to genotoxic treatments, leading to disease relapse.
The concepts discussed in this review and the latest available data give credence to the existence of an evolutionary ontogenetic relationship between senescence, carcinogenesis and gametogenesis and explain the paradox of involving senescence in carcinogenesis and editing the immunogenicity of tumour cells. This view brings us to a new twist in the centuries-old embryological theory of cancer (reviewed by Erenpreiss [
71
]) with reversible polyploidy as a new aspect. While trying to unveil the relationships between the overlapping pathways of polyploidy, senescence and stemness (depicted in Figure
1
), we have highlighted both the synergism and heterogeneity of opposing regulators, the pleiotropism of key oncogenes and the plasticity of cell fate determination. To fully understand these complex regulations a systems biology approach is required and this has already led to an interesting variant of the embryological theory of cancer where ESC-like state attraction is intrinsically linked to ontogenesis and phylogenesis [
147
,
148
]. Recognition that cancer, despite a diverse range of causes and driving mutations, is due to a similar epigenetic acquisition of ilicit transcriptional programmes may favour a shift away from current treatment paradigms to a more holistic whole network approach. This shift is apparently already underway [
149
–
152
].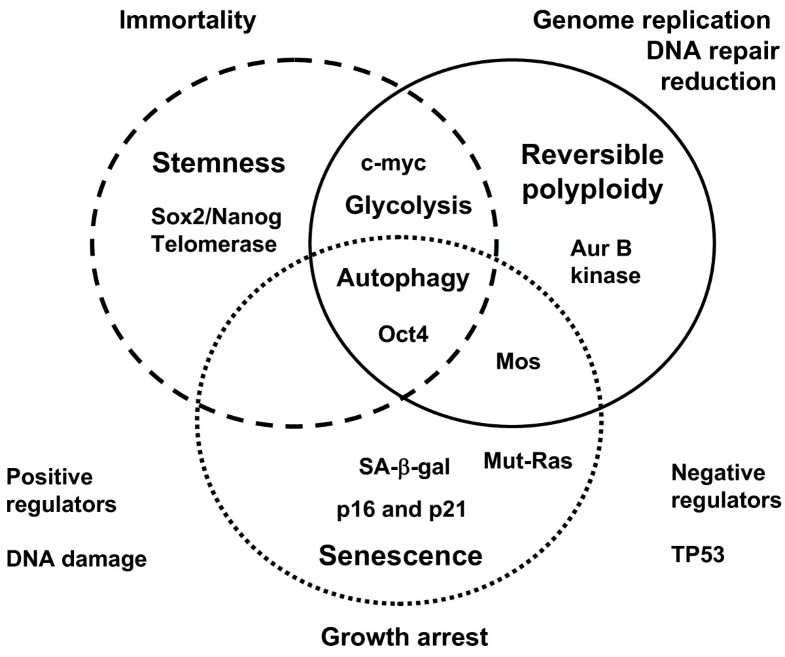 Authors' information
JE and MSC, lead cancer research laboratories in Riga and Southampton, respectively and collaborated both experimentally and theoretically on identifying and understanding the role of reversible polyploidy in cancer resistance over the last 15 years.
Declarations
Acknowledgements
The authors greatfully acknowledge the contributions made by the authors of the experimental work performed in our laboratories since our first publication on reversible polyploidy in 2000. The authors are grateful to Kirsten Walen for discussions on senescence and depolyploidisation aspects, Eugenia V and Tatyana G Zybina for discussions on developmental polyploidy, Francois Martin for discussions on reversible polyploidy, Harry Scherthan for discussions on meiosis, Zane Kalnina for discussions on the immunogenicity of tumours, Sui Huang and Alessandro Giulliani for discussions on aspects of systems biology, and Helmut Zacharius for providing literature on the gender aspects of parthenogenesis. The contribution of Prof. Jānis O Ērenpreiss (1929–1996) relating to the gametogenetic theory of cancer is gratefully commemorated. The e-version of his book cited in this review can be found:http://bmc.biomed.lu.lv/en/research/directions-and-labs/cancer-research/cancer-research/j-erenpreisa-lab/. The study was supported by the Latvian Science Council grant Nr 341/2012.
Authors' Affiliations
(1)
Latvian Biomedical Research & Study Centre, Riga, Latvia
(2)
Antibody and Vaccine Group, Cancer Sciences Unit, Faculty of Medicine, General Hospital, University of Southampton, Southampton, UK
Copyright
© Erenpreisa and Cragg; licensee BioMed Central Ltd. 2013
This article is published under license to BioMed Central Ltd. This is an Open Access article distributed under the terms of the Creative Commons Attribution License (http://creativecommons.org/licenses/by/2.0), which permits unrestricted use, distribution, and reproduction in any medium, provided the original work is properly cited.