Chemotherapy and tumor microenvironment of pancreatic cancer
Cancer Cell International
2017
17:68
Received: 29 May 2017
Accepted: 20 June 2017
Published: 5 July 2017
Abstract
Pancreatic cancer is an extremely dismal malignance. Chemotherapy has been widely applied to treat this intractable tumor. It has exclusive tumor microenvironment (TME), characterized by dense desmoplasia and profound infiltrations of immunosuppressive cells. Interactions between stromal cells and cancer cells play vital roles to affect the biological behaviors of pancreatic cancer. Targeting the stromal components of pancreatic cancer has shown promising results. In addition to the direct toxic effects of chemotherapeutic drugs on cancer cells, they can also remodel the TME, eventually affecting their efficacy. Herein, we reviewed the following four aspects; (1) clinical landmark advances of chemotherapy in pancreatic cancer, since 2000; (2) interactions and mechanisms between stromal cells and pancreatic cancer cells; (3) remodeling effects and mechanisms of chemotherapy on TME; (4) targeting stromal components in pancreatic cancer.
Keywords
Pancreatic cancer
Tumor microenvironment
Chemotherapy
Myeloid derived suppressor cells
Tumor associated macrophages
Pancreatic stellate cells
Cancer associated fibroblasts
Background
Pancreatic cancer is always referred to pancreatic ductal adenocarcinoma (PDAC) which is the fourth leading cancer death in USA. Its recent 5-year overall survival of pancreatic cancer is only 7.7% and its median survival time is about 6 months [1]. Chemotherapy is one of the most important treatments for patients with advanced pancreatic cancer. Several clinical advances of chemotherapy have been achieved by high quality, large scale, prospective and randomized clinical trials. Adjuvant chemotherapy based on gemcitabine or fluorouracil have shown promising effects to improve the overall survival [2, 3]; oral fluorouracil, S-1, has been reported to show better results than gemcitabine [4]; palliative FOLFIRINOX (oxaliplatin, irinotecan, fluorouracil, and leucovorin) regimen was reported to be the best choice for patients with metastatic pancreatic cancer [5]. For some selected borderline or local unresectable pancreatic cancer, neoadjuvant chemotherapy have also been initially adopted, with the hope to lower down the tumor and regain the radical resection opportunities [6, 7].
Increasing interests have been put into approaches targeting the tumor stroma of pancreatic cancer. The TME of pancreatic cancer is characterized by dense desmoplasia and extensive immunosuppression [8]. Pancreatic stellate cells (PSCs) and cancer associated fibroblasts (CAFs) are the main matrix-producing cells in TME of pancreatic cancer [9]. Tumor associated macrophages (TAMs) and myeloid derived suppressor cells (MDSCs) are the most infiltration populations of immunosuppressive cells in the TME [10]. The network consisting of stromal cells and cancer cells has become to be the most shining star in the research field of pancreatic cancer. Targeting the stromal components has also shown primary positive results in pancreatic cancer [11–14].
Interactions between chemotherapy and TME have also been paid more and more attentions. On one hand, chemotherapy can induce immunogenic cell death (ICD) in certain tumors, which could potentially activate immune system. On the other hand, these chemotherapeutic drugs can also remodel the TME. Gemcitabine was reported to inhibit the expansion of MDSCs [15], however, it was also reported to induce T helper 2 (Th2) cytokine environment in TME which induce the polarization of M2 polarized TAMs [16]. After gemcitabine treatment, pancreatic cancer secreted more GM-CSF, recruiting MDSCs to diminish the efficacy [17]. Cisplatin or carboplatin increased the potency of tumor cell lines to secrete interleukin (IL)-6 and prostaglandin E2 (PGE2) to induce IL-10-producing M2 polarized TAMs [18].
Four aspects focusing on the chemotherapy and TME of pancreatic cancer were reviewed in this paper, including: clinical landmark advances of chemotherapy in pancreatic cancer, since 2000; interactions and mechanisms between the stromal cells and pancreatic cancer cells; remodeling effects and mechanisms of chemotherapy on TME; targeting of the stromal components in pancreatic cancer.
The advances of chemotherapy in pancreatic cancer, since 2000
In respect of adjuvant chemotherapy, in 2001 and 2004, two papers substantially demonstrated that fluorouracil based adjuvant treatment improved overall survival, however chemoradiotherapy showed no survival benefits [2, 19]. In 2007, Oettle et al. [20] reported postoperative gemcitabine improved the estimated disease free survival at 3 and 5 years. In 2010, Neoptolemos et al. reported adjuvant use of fluorouracil plus folinic acid had comparable results with gemcitabine [3]. In 2013, adjuvant use of gemcitabine was reported to improve the 5-year overall survival and 10-year overall survival [21]. In 2016, Uesaka et al. revealed that adjuvant use of oral fluorouracil (S-1) achieved 44.1% of 5-year overall survival. Recently, Neoptolemos et al. [22] reported that the combinational use of gemcitabine with capecitabine prolonged the median survival of patients with resected pancreatic cancer.
In 2011, Conroy et al. [5] reported that for the patients with metastatic pancreatic cancer, FOLFIRINOX regimen significantly improved the results compared with gemcitabine alone. FOLFIRINOX improved median progression-free survival (PFS) and overall survival compared with gemcitabine alone. In 2013, the combination of nab-paclitaxel with gemcitabine was reported to significantly increase the response rate, improved PFS and overall survival among patients with metastatic pancreatic cancer, compared to gemcitabine alone [23]. In 2014, OFF (oxaliplatin, folinic acid and fluorouracil) was demonstrated to have better results than FF (folinic acid and fluorouracil) alone in patients with advanced gemcitabine refractory pancreatic cancer [24]. In 2016, Wang-Gillam et al. [25] reported nanoliposomal irinotecan in combination with fluorouracil and folinic acid significantly extended survival in patients with metastatic pancreatic cancer who previously received gemcitabine based therapy.
Theoretically, neoadjuvant therapy has several potential advantages over adjuvant therapy including better drug absorption, assessment of response, improved resectability rate and increased margin-negative resection rate [26]. However, the effects of neoadjuvant therapy in pancreatic cancer have not been confirmed. In 2010, a meta-analysis, mainly based on retrospective data, reported that approximately 30% of initially non-resectable tumor patients would be expected to have resectable tumors after neoadjuvant therapy, with comparable survival as initially resectable tumor patients [26]. In 2015, Ferrone et al. [6] reported neoadjuvant FOLFIRINOX for the patients with borderline resectable pancreatic cancer, resulted in a significant decrease in tumor size, lower morbidity, lymph node positivity, perineural invasion and overall survival. For the patients with resectable pancreatic cancer, due to the consideration of the risk of disease progression after neoadjuvant treatment, the clinical trials of neoadjuvant treatment is considered to be difficult and some perspective clinical trials were terminated early due to slow recruiting [7]. (The chronological list of clinical landmark events of chemotherapy in pancreatic cancer from 2000 is shown in Additional file 1: Table S1).
Interactions and mechanisms between stromal cells and pancreatic cancer cells in TME
Pancreatic cancer is a well-known inflammatory malignance. It has exclusive pathological characteristics, with an extensive desmoplastic stroma and immunosuppressive environment, comprised of abundant cellular components, mainly including PSCs, CAFs, TAMs and MDSCs. The cancer cells only consist of approximately 10–30% of the cellular components. Interactions between the cancer cells and the TME components facilitate tumor initiation, progression, metastasis and resistance to chemotherapy by varieties of mechanisms. Herein, we summarized eight potential tumor-supporting mechanisms contributing to the malignant behaviors of pancreatic cancer, through the interactions between cancer cells and the stromal cells in TME, including: (1) maintenance of pancreatic cancer stem cells (PCSCs); (2) modeling of the extracellular matrix (ECM); (3) promotion of the proliferation and survival of cancer cells; (4) promotion of the migration of cancer cells; (5) promotion of epithelial–mesenchymal transition (EMT); (6) promotion of the angiogenesis; (7) promotion of lymphangiogenesis; (8) induction of immunosuppressive reactions.
Chemotherapy and tumor microenvironment
Chemotherapy is one of the main modalities for many advanced solid malignancies. However, most of the malignancies showed resistance to chemotherapy. The mechanisms of the resistance largely remain unknown. During the last several decades, the overwhelming attentions have been focused on cancer cells. However, the possible roles of tumor microenvironment in regulation the efficacy of chemotherapy have been largely neglected. On one hand, chemotherapy can direct kill or damage cancer cells, on the other hand, the chemotherapeutic drugs can also remodel the TME. For some tumors, chemotherapy could lead to immunogenic death of cancer cells and then triggered the anti-tumor immunities by activation of T cells, NK cells or macrophages. However, in contrast, chemotherapy has been also reported to remodel tumor microenvironment which promotes tumor regrowth and drug resistance. Herein, we summarized the pro-tumoral effects and anti-tumoral remodeling effects of different chemotherapeutic drugs on TME (Additional file 1: Table S2).
Conventional cytotoxic chemotherapy
After treatment with these cytotoxic drugs, the damage of the tumor tissue could be repaired to a tumor-promoting environment, which may result in promotion of tumor growth and limitation of anti-neoplastic efficacy in some tumors. After paclitaxel and doxorubicin treatment in PyMT-MMTV mammary carcinoma, increased recruitment of TAMs was found to be mediated by increased CSF-1, CCL2 and CXCL2 [52, 171]. In murine Panc02 pancreatic cancer model, gemcitabine could induce Th2 cytokines from cancer cells to promote M2 polarized TAMs [10]. In a k-ras mutated murine pancreatic cancer model, gemcitabine induced recruitment of immature myeloid cells by GM-CSF secreted from damaged cancer cells which dampened the chemotherapeutic effects [172]. In vitro study, cisplatin and carboplatin increased the expression of IL-6 in 10 gynecologic malignant cancer cell lines to induce M2 polarized TAMs [18]. TAMs can limit the effects of chemotherapy or radiotherapy by various mechanisms, such as inhibition of cytotoxic T cells, activation of Th17 cells by inflammasome-IL1β, secreting of cathepsin, protection of cancer stem cells and alter vascular permeability to inhibit intratumoral drug concentration [172, 173]. Gemcitabine and 5-FU could also trigger cathepsin B release in MDSCs to activate the Nlrp3 inflammasome and promote tumor growth [172].
In contrary, some chemotherapeutic agents could also foster anti-tumor immunities. Doxorubicin could cause ICD in immunogenic tumor models to activate macrophages and dendritic cells to promote T cell response [174]. Doxorubicin also stimulated cancer cells to release ATP, which could recruit myeloid cells and induce differentiation into antigen presenting cells, finally resulting in effective antitumor immunities [175]. After cyclophosphamide treatment, leukemic cells released CCL4, CXCL8 and VEGF to recruit and active monocytes and enhance their phagocytic activity [176]. In murine EL4 lymphoma model, gemcitabine and 5-fluorouracil (5FU) were selectively cytotoxic on MDSCs and the elimination of MDSCs increased the toxicity of CD8(+) cells [177]. Docetaxel could deplete M2 polarized TAMs and activate M1 in 4T1-Neu mammary tumor implants [178]. Trabectedin inhibited the growth of murine fibrosarcomas partially by depletion of TAMs [179].
Targeted therapies
Due to the discoveries of the molecular mechanisms of some malignancies, targeted therapies have been available to treat some tumors. Imatinib was primarily designed to treat Philadelphia chromosome positive chronic myeloid leukemia, and later it showed dramatical effects on gastrointestinal stromal tumors (GIST). In a murine GIST model, imatinib caused reduction of TAMs through CSF1R-CSF1 inhibition, however, converted TAMs to be M2 polarized type through C/EBPβ [180]. Sorafenib is a multi kinase inhibitor, including VEGFR2, and it showed active roles to treat hepatocellular carcinoma (HCC). In HCC xenograft murine model, sorafenib induced infiltration of TAMs via CXCL12, and depletion of TAMs potentiated the effects of sorafenib on angiogenesis, growth and metastasis of the tumor [181]. However, in another murine model of HCC, sorafinib was found to induce M1 polarized TAMs and to promote their stimulatory activities on NK cells [182]. Blockade of kit also showed abilities to inhibit the expansion of MDSCs and restore the immunity of T cells against tumors [183]. Antiangiogenic therapies based on inhibition of VEGF pathway could induce transient responses of tumors, however destruction of the angiogenesis created a strongly hypoxic microenvironment, which could recruit and activate MDSCs and TAMs and then they produce varieties of proangiogenic factors to stimulate angiogenesis [184]. In preclinical study, depletion of TAMs, either by clodronate-loaded liposomes or CSF-1R inhibition, increased the antitumor effects of VEGF-targeted therapies and as well combination anti-angiopoietin-2 with low-dose metronomic chemotherapy successfully inhibited the repopulation of myeloid cells and achieved synergic effects [185].
Antibody based chemotherapy
Monoantibody based target therapies have shown promising effects for some kind of tumors. TAMs express Fc receptors that bind the Fc fragment of antibodies, engaging in Ab-dependent cellular cytotoxicity/phagocytosis (ADCC/ADCP). Trastuzumab, a moAb against the human epidermal growth factor receptor-2 (HER2), on one hand, directly inhibited HER2 signal pathway, on the other hand, induced ADCC and ADCP and primed CD8(+) T cell responses in breast cancer [186]. TAMs also enhance B cell lymphoma elimination in response to rituximab (a moAb against CD20) through FcgR-dependent ADCP and high infiltrations of TAMs were correlated with a better prognosis in rituximab treated patients. Immune checkpoints play vital roles to regulate the functions of T cells in tumor tissue. Molecules involved in checkpoint regulation include CTLA-4 and PDL1/PDL2 and TAMs express these immune checkpoint molecules. Recent evidence suggests that anti-CTLA-4 antibodies act via TAMs [187]. In murine models, depletion of Treg cells by macrophage-mediated ADCC was an essential component of the effects of anti-CTLA-4 [188]. However, it have been also reported that cetuximab, a moAb against EGFR was shown to enhance the immunosuppressive, proangiogenic, and protumoral functions of TAMs both in experimental tumor models and human cancers [189].
Taken together, the above studies showed the dual roles of chemotherapeutic drugs in regulating the tumor microenvironment which could significantly affect the efficacy of the treatments. The type of drugs, the sensitivities to the drugs of cancer cells, the immunogenic nature of cancer cells, the context of primary tumor microenvironment and the dynamic period after treatment should be considered to further delineate these interactions.
Targeting tumor microenvironment of pancreatic cancer
The growing importance of the stromal cells in regulation of almost every aspect of tumor progression leads to the option of therapeutic applications of targeting these cells. These stromal cell-targeting therapies include inhibition of expansion, blockade of recruitment, inhibition of activation, induction of differentiation or repolarization to a tumor-suppression phenotype, and even just complete depletion of these cells (Additional file 1: Table S3).
MDSCs and TAMs
The GM-CSF, G-CSF and CSF1 are key factors to promote proliferation and mobilize MDSCs and monocytes from bone marrow. Neutralizing antibodies to GM-CSF, G-CSF and CSF-1 have shown abilities to inhibit tumor growth in mice, including pancreatic cancer, colon cancer and lung cancer, by inhibition of proliferations of MDSCs and TAMs [52, 80, 190, 191]. Antibody to IL-6R [192], enzyme inhibitors, such as amino-bisphosphonate [193], PDE5 inhibitors [194], could inhibit proliferation of MDSCs to reduce the progression of breast cancer, colon cancer, fibrosarcoma in mice. Antibody or depletion of CCL2 blocked the recruitment of MDSCs and TAMs in tumor microenvironment and showed effects to inhibit pulmonary metastasis of murine mammary cancer [195]. As well, antagonists of CXCR2 and CXCR4 altered recruitment of MDSC to the tumor to inhibit metastasis of murine breast cancer [196]. Depletion of pan-TAMs by liposome-clodronate also showed abilities to inhibit tumor growth in various murine tumor models (e.g., teratocarcinoma, lung cancer, and melanoma) and human xenograft tumor models (e.g., cervical cancer, head and neck cancers) [46]. However, the obvious limitation of such treatment is the lack of specificity in depletion of different types of TAMs. In a murine squamous cell carcinogenesis model, repolarization of TAMs was more effective than blocking recruitment or depletion of TAMs, since macrophages are necessary for recruitment and activation of T cells under some circumstances [197]. Th2 type cytokines and COX-2 are main factors to induce MDSC and M2 polarized TAMs. Anti-IL-10 in addition with an inflammatory agent like CpG results in the transition of TAMs from M2 to M1 phenotype, resulted in tumor inhibitions. Aspirin and Celebrex, COX-2 inhibitors, showed ability to inhibit MDSCs and M2 to prevent pancreatic cancerogenesis and improve the effects of gemcitabine [10]. Th1 type cytokines are main inducers of M1 polarized TAMs. IL-12 treatment could re-program TAMs from M2 to M1 to increase anti-tumor response and tumor regression in a murine lung cancer model [198]. Since macrophages can be activated by Fc receptor of immunoglobulin, monoclonal antibody to HER2, CD20 and CD47 have showed to activate TAMs to enhance antitumor activities in murine breast cancer or non-hodgkin's lymphoma [199, 200]. Increase of PD1 expression in TAMs and MDSCs has been found, anti-PD1 antibody also showed to activate TAMs and MDSCs in murine pancreatic cancer model [201]. CD40 agonist showed significant roles to activate the tumor-suppression effects of TAMs to improve the efficacy of gemcitabine in both murine pancreatic cancer model and early clinical trials [202]. All-trans retinoic acid (ATRA) and vitamin D could induce MDSC to differentiate into osteoclasts, and dendritic cells which reduce the immunosuppression [203]. Considering the ability of intratumoral infiltration of TAMs, TAMs also have been attempted to use as vehicles of drug delivery or other therapeutic interventions. Genetic modified TAMs expressing IFN-γ could induce antitumor and anti-angiogenic effects in murine tumor models [204]. TAM delivery of oncolytic virus showed to limit tumor re-growth following chemotherapy in a human prostate cancer xenograft model [205].
The strategies to target macrophages have shown promising effects, however the question remains which of these methods are more efficacious when combined with cytotoxic, targeted or immune checkpoint blockade therapy. Considering the potential anti-tumor effects of macrophages, reprogramming could be a better option than pan-macrophages inhibition, depletion or blockade of recruitment.
PSCs and CAFs
According to the roles of CAFs and PSCs in pancreatic cancer, one would assume that CAFs and PSCs targeting may serve as powerful weapons to fight against pancreatic cancer and to improve therapeutic effects, however the up to date results are conflicting and more complicated than we can imagine. Sonic hedgehog (shh) pathway inhibitor IPI-926 was applied to deplete desmoplastic stroma and CAFs in pancreatic cancer, and the finding resulted in increased vascularization and more effective drug delivery of gemcitabine, with improved overall survival in KPC mouse model [206]. Clinical trials of anti-angiogenesis therapies did not show benefit in pancreatic cancer, when combined with gemcitabine [207, 208]. This finding could explain why these anti-angiogenesis therapies failed to improve the effects of gemcitabine, as these approaches would potentially lead to decrease intratumoral concentration of chemotherapeutic agents. However, when combined with the FOLFIRINOX regimen, IPI-926 led to a shorter median survival in pancreatic cancer patients [209]. The MMPs are the enzymes that are most responsible for degrading ECM components which potentially enhance the effects of gemcitabine. However, high expressions of MMP2, MMP7 and MMP11 in pancreatic cancer were found to be associated with a poor prognosis [210]. The clinical trials of MMP inhibitors, either alone or in combination with gemcitabine have not shown positive results [211]. Moreover, recent study based on PKT spontaneous pancreatic cancer mice model, depletion of desmoplastic stroma might promote the ability of cancer cells to invade the surrounding tissue and metastasize [212–214]. In accordance with results from PKT mice, small numbers of α-SMA positive CAFs in human pancreatic cancer tissue predicted shorter survival [212].
Vitamin D can induce quiescence of CAFs and aPSCs. Calcipotriol, a analogue of vitamin D, was administered with gemcitabine into KPC mice, resulting in obvious reduction of tumor in most of the mice, with a dramatical increase of intratumoral concentration of gemcitabine by 500% [215]. ATRA can also convert activated PSCs to quiescent PSCs to slow tumor progression and migration in mice pancreatic cancer model [216]. It is also believed that dense stroma tissue will increase interstitial fluid pressure (IFP) and then limits the delivery of chemotherapeutic drugs into cancer tissue. After treatment by PEGPH20, a hyaluronan-degrading enzyme, the IFP was decreased and functional perfusion of collapsed vascular structures was restored. Better survival was observed in pancreatic cancer bearing mice with a combination of PEPH20 and gemcitabine [217, 218]. Phase I clinical trial of PEGPH 20 showed no obvious toxicity and phase II clinical trial are planned [219]. Nab-paclitaxel is a combination of albumin and paclitaxel which has shown to improve the effects of gemcitabine. Albumin enables paclitaxel to transcytosis across endothelial cells through albumin receptors and then SPARC in tumor stroma has high affinity to albumin, which allows paclitaxel accumulation and then paclitaxel can induce stromal collapse, resulting greater efficacy of gemcitabine delivery and concentration in the tumor. In a current phase III clinical trial, the combination of nab-paclitaxel and gemcitabine have shown inspiring results [23]. In addition to the aspects of ECM, CAFs can also sequester T cells by expression of CXCL 12, and AMD3100, an inhibitor of CXCR4, could block the effects of CXCL12 of CAFs and enhanced the effects of antagonist of PDL1 in KPC mice [220].
Taken together, the above studies indicated the complicated effects of the desmoplastic tumor stroma targeting therapies. Most of the studies showed that depletion of desmoplasia, inactivation of PSCs and CAFs could improve the effects of gemcitabine in mice model, however the clinical trials did not get equal satisfactory results as in mice models. And even, recent studies supported the idea that the desmoplastic stroma might form a barrier that reduced the invasion and metastasis of cancer cells. Hence, the roles of desmoplastic stroma seem to be context-dependent during different stages of the tumor and under different treatment. Since the PSCs and fibroblasts have vital physiological roles, induction of quiescence of PSCs and CAFs, might be a better promising approach than complete ablation of desmoplastic stroma for future development of therapies targeting tumor desmoplasia of pancreatic cancer.
Conclusion
Pancreatic cancer will be the second leading cancer death in USA in 2030. Although tremendous efforts have been put on the study of pancreatic cancer cells, the improvements of survival have been minimally limited. The complicated network consisting of PSCs, CAFs, TAMs, MDSCs and cancer cells play crucial roles in pancreatic cancerogenesis, tumor progression, metastasis and drug responses. In addition to direct toxicities to cancer cells, chemotherapy can also remodel the TME, affecting the efficacy, or even contributing to drug resistance (Fig.
1
). New treatments, targeting the tumor microenvironment, are highly warranted, however there are still some aspects need further explorations: (1) since Th2 cytokines are main cytokines to activate or polarize PSCs, CAFs, TAMs and MDSCs, it is of great importance to uncover why pancreatic cancer cells express high level of the Th2 cytokines; (2) there are many crosstalk between these five cell populations, which could dwarf the effects of any single target therapy, so combinational treatment may provide better results; (3) since of the diversities of the functions of PSCs, CAFs, TAMs and MDSCs, which could potentially contribute to anti-tumor effects, the regulations of the functions of these cells could be more effective than that of complete depletion of all of these cells; (4) since these stromal cells can seldom kill or damage cancer cells directly, the combinations of stroma cell-targeting treatments with direct cancer cell-targeting treatments could warrant better results; (5) among these five cell populations, M2 polarized TAMs express exclusive surface markers (e.g., CD206, CD163) which are seldom expressed on other immune cells or any other tissues, and there are also abundant infiltration of M2 polarized TAM in pancreatic cancer tissue, in contrast, these cells are seldom found in the peripheral blood or any other part of normal tissue, so these M2 exclusive surface markers could be applied as targets for directional intratumoral drug delivery.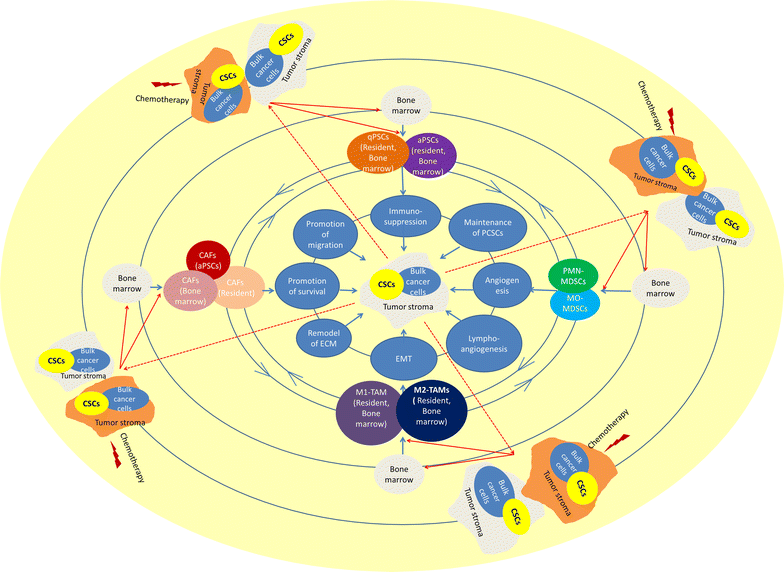 Abbreviations
ATRA:

all-trans retinoic acid
ARG1:

arginase1
bFGF:

basic fibroblast growth factor
CAFs:

cancer associated fibroblasts
CSF-1:

colony stimulating factor-1
COX-2:

cyclooxygenase-2
CSCs:

cancer stem cells
CTCs:

circulating tumor cells
CTLA-4:

cytotoxic T-lymphocyte-associated protein 4
CXCL:

c-x-c motif ligand
CXCR:

receptor of c-x-c motif ligand
DAMPs:

damage associated molecular patterns
DMBA:

dimethylbenzanthracene
ECM:

extracellular matrix
EMT:

epithelial mesenchymal transition
FAP:

fibroblast activation protein
GIST:

gastrointestinal stromal tumors
GM/M-CSF:

granulocyte macrophage/macrophage colony stimulating factor
GFAP:

glial fibrillary acid protein
HCC:

hepatocellular carcinoma
HMGB1:

high-mobility group box1 protein
ICD:

immunogenic cell death
iNOS:

inducible nitric oxide synthase
IL:

interleukin
IFP:

interstitial fluid pressure
iMCs:

immature myeloid cells
IFN-γ:

interferon-γ
MDSCs:

myeloid derived suppressor cells
MMPs:

metal matrix proteases
PanIN:

pancreatic intraductal neoplasia
PDAC:

pancreatic ductal adenocarcinoma
PD-1:

programmed death 1
PGE2:

prostaglandin E2
PSCs:

pancreatic stellate cells
STAT:

signal transducer and activator of transcription
PCSCs:

pancreatic cancer stem cells
PDGF:

platelet-derived growth factor
TME:

tumor microenvironment
Treg:

regulatory T cells
TAMs:

tumor associated macrophages
Th2:

T helper 2
TGFβ:

transforming growth factor beta
TNFα:

tumor necrosis factor alpha
VEGF:

vascular endothelial growth factor
Declarations
Authors' contributions
QFL, YPZ and QL designed the structure of this paper. QFL wrote the manuscript. YPZ and QL revised the manuscript. All authors agreed to send this manuscript to Cancer Cell International for publication. All authors read and approved the final manuscript.
Acknowledgements
Not applicable.
Competing interests
The authors declare that they have no competing interests.
Funding
National Natural Science Foundation of China (81502068, 81673023 and 81272573) and Beijing Natural Science Foundation of China (7172177).
Publisher's Note
Springer Nature remains neutral with regard to jurisdictional claims in published maps and institutional affiliations.
Open AccessThis article is distributed under the terms of the Creative Commons Attribution 4.0 International License (http://creativecommons.org/licenses/by/4.0/), which permits unrestricted use, distribution, and reproduction in any medium, provided you give appropriate credit to the original author(s) and the source, provide a link to the Creative Commons license, and indicate if changes were made. The Creative Commons Public Domain Dedication waiver (http://creativecommons.org/publicdomain/zero/1.0/) applies to the data made available in this article, unless otherwise stated.
Authors' Affiliations
(1)
Department of General Surgery, Peking Union Medical College Hospital, Peking Union Medical College & Chinese Academy of Medical Sciences, Beijing, China