Primary research

Open Access
Molecular mechanisms of heptaplatin effective against cisplatin-resistant cancer cell lines: less involvement of metallothionein
Cancer Cell International
2004
4:6
Received: 12 October 2004
Accepted: 19 October 2004
Published: 19 October 2004
Abstract
Background
Heptaplatin is a new platinum derivative with anticancer activity against various cancer cell lines, including cisplatin-resistant cancer cell lines (Cancer Chemother Pharmacol 1995; 35: 441).
Methods
Molecular mechanisms of heptaplatin effective against cisplatin-resistant cancer cell lines has been investigated in connection with metallothionein (MT). Cytotoxicity was determined by an MTT assay. MT mRNA, was determined by RT-PCR assay. Transfection study was carried out to examine the function of MT.
Results
Of various gastric cancer cell lines, SNU-638 and SNU-601 showed the highest and lowest levels of MT mRNA, respectively, showing 80-fold difference. The IC50 values of SNU-638 to cisplatin, carboplatin and heptaplatin were 11.2-fold, 5.1-fold and 2.0-fold greater than those of SNU-601, respectively. Heptaplatin was more effective against cisplatin-resistant and MT-transfected gastric cancer sublines than cisplatin or carboplatin was. In addition, heptaplatin attenuated cadmium, but not zinc, induction of MT.
Conclusion
These results indicate that molecular mechanisms of heptaplatin effective against cisplatin-resistant gastric cancer sublines is at least in part due to the less involvement of MT in heptaplatin resistance as well as its attenuation of MT induction.
Keywords
Gastric cancerheptaplatincisplatincarboplatinmetallothionein
Introduction
Gastric cancer is the most frequently diagnosed and the second leading cause of cancer-related death in Korea. For many years, a few single agents such as 5-fluorouracil, doxorubicin, mitomycin C, and nitrosourea, have been considered to have significant antitumor activity in gastric cancer patients [1]. However, the response rate has been <30% and complete remission has been rare. Several combination chemotherapy regimens such as FAM (5-fluorouracil, adriamycin, and mitomycin C) have been attempted in order to improve the treatment outcomes. In a nonrandomized Phase II study for advanced gastric cancer, the FAM regimen achieved an objective partial response rate of 42% [2]. Some cisplatin-based combination chemotherapy regimens have shown high response rates [3, 4].
Despite the efficacy of cisplatin against gastric cancer, there were two major problems with this agent. Firstly, there are significant side effects, such as severe nausea and vomiting, nephrotoxicity, and neurotoxicity [
5
]. Secondly, the cancer cells show a primary or acquired resistance to cisplatin [
6
]. Therefore, extensive effort to develop novel cisplatin analogs with equivalent or greater antitumor activity and a lower toxicity has been made. Among them, carboplatin has reduced renal and gastrointestinal side effects than cisplatin [
7
]. However, carboplatin has no enhanced therapeutic efficacy over cisplatin and has not circumvented the acquired resistance to cisplatin. Therefore, it is essential to develop a new platinum drug with a greater potent antitumor activity as well as being effective against resistant cells. Recently, SK Pharmaceutical (Seoul, Korea) developed many cisplatin analogs, including heptaplatin (SKI-2053R) (Fig.
1
). Heptaplatin exhibited a greater antitumor activity against a number of human cancer cell lines including gastric cancer as well as a lower nephrotoxicity [
8
,
9
]. In addition, heptaplatin 2053R is also effective against cisplatin-resistant L1210 leukemia cells (L1210-CPR) [
10
].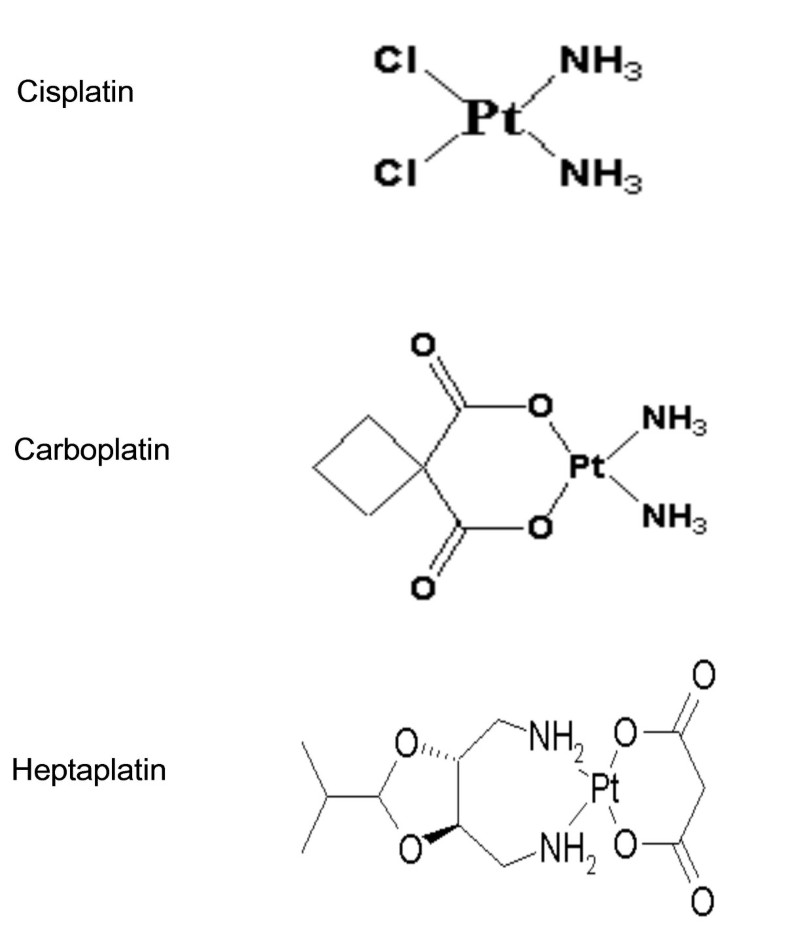 Metallothioneins (MT) are a family of stress-induced proteins with a wide variety of physiological functions, including protection against metal toxicity and oxidants. They may also assist in regulating cellular proliferation, apoptosis, and malignant progression. MT has a high affinity for heavy metals since it contains many cystein residues, which account for approximately 30% of the total amino acids in this protein molecule [11]. MT is a low molecular weight metal binding protein whose synthesis is induced by heavy metals, glucocorticoids and other factors [12]. Although the physiological role of MT is unclear, MT participates in detoxifying heavy metals or maintaining zinc and copper homeostasis [12]. Some reports have shown that MT has free radical scavenging ability in vitro [13, 14] and MT expression also increases the cellular resistance to radiation damage [15]. The cells transfected with the bovine papilloma virus expression vectors containing the DNA encoding human metallothionein-IIA were resistant to cisplatin, melphalan, and chlorambucil but not to 5-fluorouracil or vincristine [16].
In this study, the effect of MT on the cisplatin analog-induced cytotoxicity was investigated in the gastric cancer cell lines. Since heptaplatin is less associated with MT, it is believed to be effective against cisplatin-resistant cells related to the high level of MT.
Results
MT cDNA, whose expression level was higher than the wild-type AML-2, were isolated from the paraquat-resistant AML-2 cells [17, 18]. The nucleotide sequence of the clone, containing an almost full-length cDNA copy of the human MT mRNA, was determined. Molecular cloning and nucleotide sequence analysis revealed that the hMT transcript is a novel hMT-I isoform, which was designated hMT-Ip, and exhibits a 98.4% homology with the hMT-Ie isoform, whereas it shows 86.9% homology with hMT-II, 83.8% homology with hMT-III and 62.9% homology with hMT-IV [18].
Discussion
The cisplatin analogs are among the most active and widely used cytotoxic anticancer drugs. However, the acquisition or presence of resistance significantly undermined the curative potential of these drugs against many malignancies. Alterations in the cellular pharmacology, including decreased drug accumulation, increased cellular thiol levels and increased repair of platinum-DNA damage, have been observed in the cisplatin-resistant cancer cell lines [19]. Since heptaplatin is effective against cisplatin-resistant cancer cells, its development has shed light on cisplatin-refractory cancer patients. However the mechanism by which heptaplatin is effective against cisplatin-resistant cancer cells is unclear. Since MT is involved in cisplatin resistance [26], the molecular mechanisms for the effect of heptaplatin against the cisplatin-resistant cancer cell lines was investigated with respect to the involvement of MT. In this study, the gastric cancer cell lines expressed different basal MT mRNA levels, whose mechanisms remain to be determined. It was suggested that DNA hypomethylation was responsible for the higher basal hMT-IIa mRNA levels in the cisplatin-resistant cells [20]. In this study, MT expression in the gastric cancer cell lines was not always related to the resistance to cisplatin, suggesting the involvement of other mechanisms except MT. But heptaplatin is more effective against the MT-overexpressing gastric cancer cell line selected for resistance to cisplatin than cisplatin and carboplatin were. In addition, the cytotoxicity by cisplatin and carboplatin but not heptaplatin was reduced by a pretreatment with zinc, which can induce MT remarkably (data not shown). Taken together, heptaplatin was more effective against both cisplatin-resistant gastric cancer cell subline SNU-601/CIS and MT-overexpressing SNU-638 than was cisplatin or carboplatin. These results suggest a possibility that the cytotoxicity of heptaplatin was less influenced by MT. To test the hypothesis, the function of MT involved in the cytotoxicity of the cisplatin analogs was confirmed by the transfection of MT. The cytotoxicity of heptaplatin was not influenced by the MT transfection, which indicates that the anticancer activity of heptaplatin to the cisplatin-resistant gastric cancer sublines could be less associated with MT. In addition, heptaplatin inhibited the MT expression caused by cadmiun but not zinc. This result suggests that metals differentially regulate MT, which is supported by the literature. The inhibition mechanism for H7, a protein kinase C inhibitor, may be different between the zinc- and cadmium-treated cells. H7 blocks zinc transport but not cadmium transport although rottlerin, a PKC inhibitor that can block both cadmium and zinc transport [21, 22]. Hypoxia activates MT expression through the metal response elements and that this activation involves the metal transcription factor-1 (MTF-1) [23]. MTF-1 was found to be present in the cytoplasm of the cells. Upon zinc stimulation, MTF-1 was translocated to the nuclei and activated MT gene expression [24]. However, no MTF-1 translocation was observed in cells treated with cadmium [25]. Whether or not MTF-1 is involved in inhibiting the cadmium-induced MT induction by heptaplatin remains to be determined.
In summary, these results indicate that molecular mechanisms responsible for the effect of heptaplatin against the cisplatin-resistant gastric cancer sublines is at least in part due to the lower involvement of MT as well as its attenuation of MT induction.
Declarations
Acknowledgement
The authors wish to acknowledge Ms. Y. K, Seo and Ms. H. S. Kim for their technical assistance. This work was supported by Korea Research Foundation Grant (KRF-2001-041-FOO186).
Authors' Affiliations
(1)
Research Center for Resistant Cells, Department of Pharmacology, Chosun University Medical School, Dong-gu, South Korea
(2)
Department of Surgery, Chosun University Medical School, Dong-gu, South Korea
(3)
Department of Cell and Developmental Biology, College of Dentistry, Seoul National University, South Korea
Copyright
© Choi et al; licensee BioMed Central Ltd. 2004
This article is published under license to BioMed Central Ltd. This is an open-access article distributed under the terms of the Creative Commons Attribution License (http://creativecommons.org/licenses/by/2.0), which permits unrestricted use, distribution, and reproduction in any medium, provided the original work is properly cited.