Translesion DNA synthesis in the context of cancer research
Cancer Cell International
2011
11:39
Received: 14 June 2011
Accepted: 2 November 2011
Published: 2 November 2011
Abstract
During cell division, replication of the genomic DNA is performed by high-fidelity DNA polymerases but these error-free enzymes can not synthesize across damaged DNA. Specialized DNA polymerases, so called DNA translesion synthesis polymerases (TLS polymerases), can replicate damaged DNA thereby avoiding replication fork breakdown and subsequent chromosomal instability.
We focus on the involvement of mammalian TLS polymerases in DNA damage tolerance mechanisms. In detail, we review the discovery of TLS polymerases and describe the molecular features of all the mammalian TLS polymerases identified so far. We give a short overview of the mechanisms that regulate the selectivity and activity of TLS polymerases. In addition, we summarize the current knowledge how different types of DNA damage, relevant either for the induction or treatment of cancer, are bypassed by TLS polymerases. Finally, we elucidate the relevance of TLS polymerases in the context of cancer therapy.
Keywords
Proliferate Cell Nuclear Antigen
Bypass Reaction
BRCT Domain
Post Replicative Repair
Chicken DT40 Cell
DNA damage response (DDR)
Genomic information is stored as deoxyribonucleic acid (DNA) in every living organism and needs to be protected and maintained to guarantee genomic integrity. Each of the 1013 cells of the human body contains 30'000-40'000 genes encoded by 3 × 109 base pairs of the DNA [1–3]. The integrity of the DNA is constantly threatened either by spontaneous decay or by damage induced by endogenous and environmental sources. In every single cell, tens of thousands of DNA lesions per day are formed due to spontaneous hydrolysis and the attack of reactive oxygen species (ROS) and other intracellular metabolites [4]. In the context of cancer research, prominent examples for environmental factors which induce DNA damage are ultraviolet (UV)-light inducing [6-4]pyrimidine-pyrimidone photoproducts ([6-4]PP) and cyclobutane pyrimidine dimers (CPDs), and cigarette smoke, which contains a variety of carcinogens, e.g. benzo(α)pyrene (BaP) [5]. Cancer treatment regimens are frequently based on DNA damage inducing agents. For instance, multimodality therapies of solid tumors are often based on cisplatin, a platinum analogue, which induces intra- and interstrand DNA crosslinks [6].
In addition, accurate DNA duplication is an essential step carried out by a complex DNA replication machinery but errors during this process can also compromise genomic integrity. For example, damaged DNA, which cannot be replicated by the high fidelity replicative DNA polymerases, can lead to stalled replication forks and subsequent replication fork breakdown results in chromosomal instability [7].
To counteract the constant loss or the modification of DNA bases, cells evolved a complex and interplaying system, the so-called DNA damage response (DDR) [
8
,
9
]. During DDR, DNA lesions are detected, leading to the activation of a signal cascade resulting either in the repair or the tolerance of the DNA damage, thereby regulating the cellular outcome after genomic insult [
4
] (Figure
1
).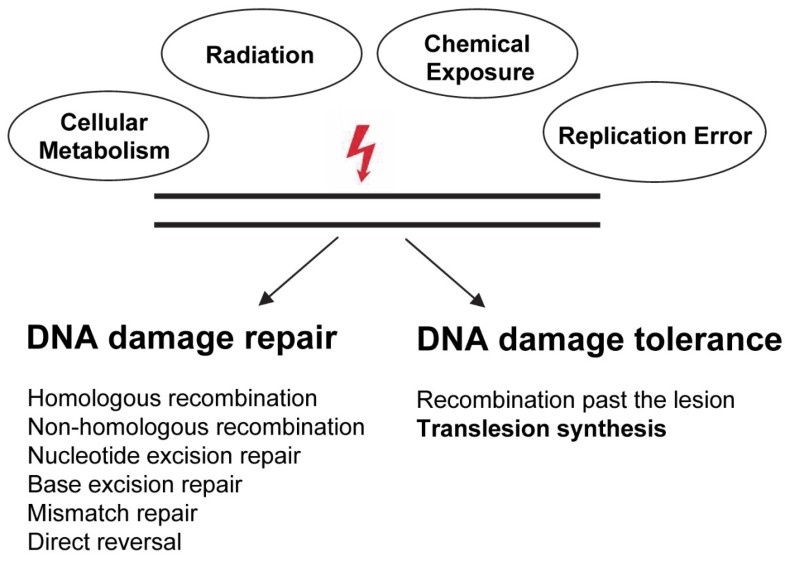 The cellular DNA repair machinery includes non-homologous end joining (NHEJ) and homologous recombination (HR) to repair double strand breaks (DSBs), base excision repair (BER) to counteract modification of the nitrogenous bases, nucleotide excision repair (NER) to excise bulky nucleotide alterations such as UV-induced [6-4]PPs, mismatch repair (MMR) to exchange mispaired nucleotides and direct damage repair for reversal of alkylated nucleotides (Figure 1) [10]. Although DNA repair processes are not as accurate as high-fidelity DNA replication, DNA repair is considered to be error-free. In eukaryotes, DNA damage tolerance involves a error-free pathway dependent on homologous recombination and a more mutagenic pathway based on TLS polymerases [11]. In this review we focus on the contribution of TLS polymerases to DNA damage tolerance and their relevance in cancer research.
Mammalian TLS polymerases: state-of the art
Conclusions
The existence of error-prone TLS polymerases reflects a trade-off between avoiding gross chromosomal instability due to replication fork breakdown and the occurrence of mutations on the nucleotide level (Figure 5).
It was proposed that the evolution of long lived and large animals such as vertebrates necessarily entailed the acquisition of potent tumor suppressive mechanisms [244]. Thus, compared to lower organisms such as bacteria and yeast, it can be speculated that the increased number of TLS polymerases evolved in higher organisms as a tumor suppressive adaptation. Alternatively, research carried out in the last years showed that mammalian TLS polymerases are not only involved in bypassing and repair of DNA lesions but also in the diversification processes of IgG and the maintenance of epigenetic modifications. In summary, TLS polymerases have a function beyond the maintenance of the genomic integrity and it will be interesting tofurther elucidate the involvement of TLS in the delicate balance between cancer suppression and longevity.
Authors' Affiliations
(1)
Laboratory of Molecular Oncology, Clinic and Polyclinic of Oncology, University Hospital Zürich, Zürich, Switzerland
Copyright
© Knobel and Marti; licensee BioMed Central Ltd. 2011
This article is published under license to BioMed Central Ltd. This is an Open Access article distributed under the terms of the Creative Commons Attribution License (http://creativecommons.org/licenses/by/2.0), which permits unrestricted use, distribution, and reproduction in any medium, provided the original work is properly cited.