Xanthorrhizol: a review of its pharmacological activities and anticancer properties
Cancer Cell International
2015
15:100
Received: 15 July 2015
Accepted: 12 October 2015
Published: 21 October 2015
Abstract
Xanthorrhizol (XNT) is a bisabolane-type sesquiterpenoid compound extracted from Curcuma xanthorrhiza Roxb. It has been well established to possess a variety of biological activities such as anticancer, antimicrobial, anti-inflammatory, antioxidant, antihyperglycemic, antihypertensive, antiplatelet, nephroprotective, hepatoprotective, estrogenic and anti-estrogenic effects. Since many synthetic drugs possess toxic side effects and are unable to support the increasing prevalence of disease, there is significant interest in developing natural product as new therapeutics. XNT is a very potent natural bioactive compound that could fulfil the current need for new drug discovery. Despite its importance, a comprehensive review of XNT's pharmacological activities has not been published in the scientific literature to date. Here, the present review aims to summarize the available information in this area, focus on its anticancer properties and indicate the current status of the research. This helps to facilitate the understanding of XNT's pharmacological role in drug discovery, thus suggesting areas where further research is required.
Keywords
Xanthorrhizol Curcuma xanthorrhiza Roxb.PharmacologicalAnticancer
Background
Natural products are always characterized as more drug-likely and biological friendly than totally synthetic molecules [1]. Many of them have been proven to have better compatibility with biological system and lesser side effects. New chemical entities derived from natural products have played a key role in many drug discovery programmes including anticancer, antimicrobials and anti-inflammatory drugs. They are considered as good lead compounds suitable for further modification during drug development. The World Health Organisation (WHO) estimated that annual global use of herbal medicines is about US $83 billion in 2008, indicating that natural products are important sources of new therapeutics and future medicines [2].
Studies of Lahlou addressed that alternative drug discovery methods for synthetic drugs failed to deliver many lead compounds in medicinal therapy [1]. It has been proven that many synthetic drugs have limited potential due to toxic side effects and treatment inefficiency. For instance, failure in chemotherapy is caused by dose-limiting toxicity related to drug resistance [3]. Since drug resistance is caused by human multidrug resistance associated proteins (MRPs) [4], natural product such as XNT may contribute new therapeutics that could suppress MRPs, thus improving current medication use.
To date, no comprehensive review has been done on the pharmacological activities of XNT. The present review aims to summarize the available information in this area, focus on its anticancer properties and indicate the current status of the research. This helps to facilitate the understanding of XNT's pharmacological role in drug discovery, thus suggesting areas where further research is required.
Discovery of xanthorrhizol (XNT)
XNT is the most active and abundant compound isolated from the essential oil of the rhizomes of
Curcuma xanthorrhizza
Roxb. [
5
], also known as Java turmeric [
6
].
C. xanthorrhiza
(Fig.
1
) is a ginger-like plant of the family
Zingiberaceae
[
7
,
8
], which is distributed in Southeast Asia region [
8
,
9
]. Although it originates from Indonesia [
7
], it has been grown wild and cultivated in Thailand, Philippines, Sri Lanka and Malaysia [
10
]. It has a round tuber [
7
] with the dingy yellow outer skin (Fig.
2
) and yellow flesh [
11
]. The rhizomes smell balmy and taste bitter [
11
].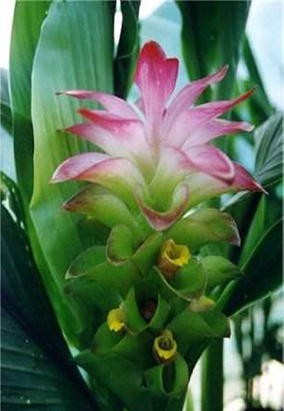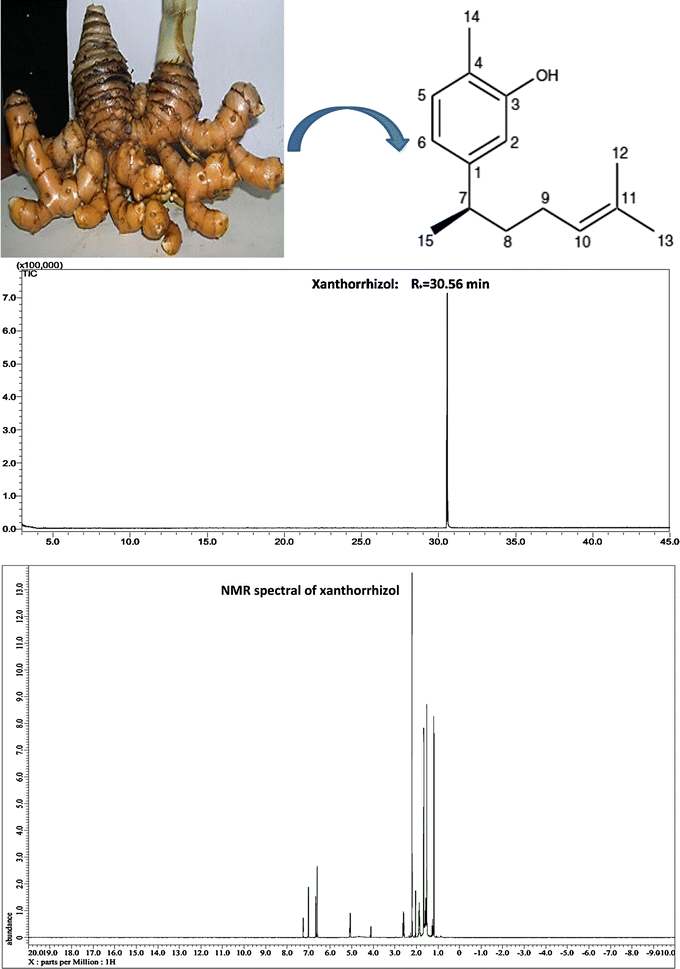 There are several methods used to extract the essential oil and XNT including supercritical fluid carbon dioxide extraction (SCFE-CO2), Soxhlet extraction and percolation process [8]. According to Salea and colleagues (2014), SCFE-CO2 at factor combination of pressure 15 MPa, temperature 50 °C, flow rate 15 g/min and duration 60 min, has the highest XNT compared to Soxhlet and percolation extraction system. Before the introduction of SCFE-CO2, many researchers [6, 12–20] were still using conventional solvent extraction method to isolate XNT. Since the cost production of using SCFE-CO2 is much higher than conventional method, we suggest that SCFE-CO2 is more applicable in large-scale production in the industry.
Conventionally, the dried rhizomes of C. xanthorrhiza are grounded and soaked in 95 % ethanol for 2 days at room temperature [6]. The filtrate is subjected to a rotary evaporator to produce a concentrated extract under reduced pressure. Next, it is separated by silica gel column chromatography eluted with n-hexane–ethyl acetate solution (10:1, v/v) to give different fractions. The desired fraction is further purified by reverse phase (C18) column chromatography and eluted with 80 % methanol. The presence of XNT in each fraction is pre-identified using thin layer chromatography (TLC) [14, 18]. Then, high performance liquid chromatography (HPLC) analysis (≥98 %) [21] and gas chromatography–mass spectrometry (GC–MS) [14, 18] are used to determine the purity of XNT. Finally, succeed isolation of XNT is confirmed by NMR spectral analysis [14, 18]. It is categorized as a bisabolane-type sesquiterpenoid compound [7, 10]. The structure of XNT is shown in Fig. 2.
Historical application of XNT
Previous studies evaluated that XNT has antimicrobial [
15
,
16
,
19
,
22
–
25
], anti-inflammatory [
10
,
17
,
26
,
27
], antioxidant [
5
,
17
], antihyperglycemic [
6
], antihypertensive [
21
,
28
], antiplatelet [
29
], nephroprotective and hepatoprotective [
30
–
32
], estrogenic and antiestrogenic properties [
20
,
33
]. These pharmacological activities are summarized in Table
1
.
Table 1
Historical application of XNT
| Pharmacoactivity | Description | References |
| --- | --- | --- |
| Antimicrobial | Antibacterial (Actinomyces viscosus, Porphyromona gingialis, Streptococcus mutans, Staphylococcus aureus, methicillin-resistant S. aureus, Escherichia coli, Propionibacterium acnes), anticandidal (Candida albicans, C. glabrata, C. guilliermondii and C. parapsilosis), antifungal (Malassezia species, Aspergillus flavus, A. fumigatus, A. niger, Fusarium oxysporum, Rhizopus oryzae and Trichophyton mentagrophtes) | |
| Anti-inflammatory | In vitro reduced COX-2, iNOS, TNF-α and IL-6 levels; in vivo counteracted the effect of TPA-induced ODC, COX-2 and iNOS activation in mouse skin, and prevented IkBα degradation; blocked the neurogenic and inflammatory pain response in the formalin induced pain test in rats | |
| Antioxidant | Suppressed H2O2-induced lipid peroxidation in rat brain homogenates, glutamate-induced neurotoxicity and ROS production; inhibited human LDL peroxidation | |
| Antihyperglycemic | Reduced the levels of insulin, glucose, FFA, TG in serum; reduced the size of epididymal fat pad and adipocyte; decreased the production of TNF-α, IL-6, IL-1β and CRP in adipose tissue, liver and muscle | [6] |
| Antihypertensive | Calcium antagonistic activity in rat uterus and thoracic aorta | |
| Antiplatelet | Inhibited platelet aggregation stimulated by arachidonic acid, collagen and ADP | [29] |
| Nephroprotective and hepatoprotective | Attenuated JNKs phosphorylation involved in MAPK signaling; inactivated NF-kB, AP-1; downregulated COX-2 and iNOS, reduced blood GPT and GOT levels | |
| Estrogenic and anti-estrogenic | Upregulated pS2 and promoted EREs in MCF-7 cells; acted as partial antagonist hERα in T47D cells | |
Current status of XNT
In this review, other aspects of XNT have been considered including herb-drug interaction, toxicity studies and clinical studies. XNT showed synergistic antifungal effects with amphotericin B and ketoconazole in vitro [55]. To date, only an in vivo toxicity study of XNT has been reported [56], whilst clinical study of XNT is not available so far. The details of XNT's status have been described in the following sections.
Herb-drug interaction
XNT-amphotericin B or XNT-ketoconazole
Rukayadi et al. demonstrated that XNT-amphotericin B or XNT-ketoconazole showed in vitro synergistic anticandidal effect against Candida albicans, Candida glabrata, Candida guilliermondii, Candida krusei, Candida parapsilosis and Candida tropicalis [55]. Combined XNT with amphotericin B or ketoconazole inhibited the growth of all six Candida species and increased cell death by several logs within 4 h [55]. We propose that XNT could be added in the formulation of conventional antifungal agents such as amphotericin B or ketoconazole to increase drug efficacy. However, the risks of side effects still need to be investigated.
XNT-pentobarbital
XNT at 50 mg/kg was found to prolong the pentobarbital-induced sleeping time in mice [56]. This was due to the interaction of XNT with cytochrome p450 to inhibit the metabolism of pentobarbital. Since XNT was reported to inhibit cytochrome p450 activity [56], we suggest that further studies could be conducted to elucidate its effects on hepatic drug metabolism.
Toxicity studies
According to Yamazaki et al., a single oral administration of 500 mg/kg XNT showed no mortality in mice [56]. Since 1 mg of C. xanthorrhiza ethanolic extract contained 0.1238 mg of XNT [10], we estimate that up to 619 mg/kg XNT in 5 g/kg of this extract was safe to be administrated in mice. However, efficacy and safety dosage of XNT in targeted therapeutic areas are yet to be conducted in the future. Moreover, there are still lacking of studies on genotoxicity, carcinogenicity and reproductive toxicity of XNT.
Clinical studies
To date, XNT data is unavailable in clinical pharmacology and clinical efficacy studies [57]. Not every new candidate compound discovered is fully developed and marketed [58]. We reveal that some issues restraining the availability of clinical trials are funding limitations and difficulty getting approvals from Food and Drug Administration (FDA). Frohlich supported that one of the complexities surrounding clinical research is insufficient funding to conduct modern research [59]. Aside from funding, strict ethical and regulatory compliance enforced by our social structure [59] might prolong the new drug developmental process. The major concern of clinical research is the safety and efficacy of the candidate compound [58]. It normally takes 5–6 years for a candidate drug to be submitted in a new drug application (NDA) to the FDA. Then, it required 6–10 months to complete the review of all the safety and efficacy data [58]. To overcome the delay of widespread access to new therapies, questionable data and ethical issues must be resolved. We suggest that necessary safety data, efficacy data and overall risk/benefit analysis are important key elements in successful sponsorship of XNT for future clinical studies.
Molecular and cellular mechanisms of XNT anticancer effects
XNT is a potential suppressor of carcinogenesis. Seeing that several monophenolic groups possess cytotoxic activities, the cytotoxic effect of XNT may be contributed by its phenol group [13]. Its anticancer mechanisms are comprehensive and diverse by modulating different levels of cellular growth and apoptosis. The apoptotic morphology is usually characterized by DNA fragmentation, cell shrinkage, elongated lamellipodia and chromatin condensation [7, 18, 60–62]. Taken together with the anticancer activities that have been reported [7, 12–14, 18, 26, 41, 60–68], we suggest that the anticancer mechanisms of XNT are closely associated to its antioxidative and anti-inflammatory activities, induction of apoptosis and cell cycle arrest.
Anticancer properties
XNT was first known to possess anticancer properties when it was tested on Sarcoma 180 ascites in mice [64]. Sarcoma 180 ascites is a transplantable tumor [86]. Although the antitumor activity of XNT was found to be lower than α-curcumene [64], there is lack of mechanism studies on how XNT inhibited tumor growth of Sarcoma 180 ascites.
On the other hand, antiproliferative activities of XNT have been demonstrated in many types of human breast cancer cells. These included MDA-MB-231 [
18
,
63
], MDA-MB-453 [
63
], SK-BR-3 [
63
], MCF-7 [
60
], YMB-1 [
13
] and T47D breast cancer cell lines [
12
,
63
]. Among the six breast cancer cell lines, only the mechanism studies of XNT towards MDA-MB-231, MCF-7 and T47D cells have been reported. We recommend that future studies should be carried out on MDA-MB-453, SK-BR-3 and YMB-1 cells to evaluate XNT's capacity in breast cancer treatment. Furthermore, the anticancer activities of XNT have also been reported in colon cancer, cervical cancer, liver cancer, skin cancer, lung cancer, tongue cancer, oral cancer, esophageal cancer and ovarian cancer as summarized in Table
2
.
Table 2
Anticancer properties of XNT
| Types of cancer | Description | References |
| --- | --- | --- |
| Breast cancer (MDA-MB-231, MCF-7, T47D, YMB-1, MDA-MB-453 and SK-BR-3 cells) | Induced mitochondrial-mediated apoptosis against MDA-MB-231 (↑ caspase-3, -9, cytochrome c and ↓ PARP-1) and MCF-7 cell apoptosis (↑ p53, ↓ Bcl-2 and PARP-1); acted as partial estrogen antagonist against T47D cell line | |
| Colon cancer (HCT116 cells) | Induced cell cycle arrest (G0/G1, G2/M phase and increased sub-G1 peaks); mitochondrial pathway apoptosis (↑ caspase-8, -9 and-3), tBID and ↓ Bcl-XL protein, cleavage of PARP; ↑ NAG-1 may inactivate Akt pathway and subsequently suppressed GSK3β and mTOR | [65] |
| Cervical cancer (HeLa cells) | Induced p53 and Bax-dependent apoptosis, but not Bcl-2 and E6 | [61] |
| Liver cancer (HepG2 cells) | Mitochondrial pathway apoptosis(↑ p53 ↓ Bcl-2 and Bcl-XL), but not Bax; caspase activation (caspase-3 and -9, not -7) involved tBid; cleavage of PARP and DFF45/ICAD proteins | |
| Skin cancer (HM3KO cells; TPA-induced tumor promotion in DMBA-initiated mouse skin) | Induced apoptosis in HM3KO cells; decreased tumor multiplicity and tumor incidence in DMBA-initiated mouse skin, suppressed ODC, COX-2 and iNOS expression through NF-kB (blocking IkBα degradation) and or Akt, inactivated ERK, p38, JNK and Akt | |
| Lung cancer (spontaneous mouse lung metastasis model) | Downregulation of MMP and COX-2 in MAPK/ERK pathway (decreased COX-2, MMP-9 and phosphorylated ERK); attenuated expression of JNK and p38; counteracted the effect of Raf-1 | [41] |
| Tongue cancer (Tca8113 cells) | Induced cell cycle arrest in G0/G1 and S + G2/M phase; downregulated the protein expression of Bcl-2, but not Bax | [66] |
| Oral cancer (SCC-15 OSCC cells; DMBA-induced oral carcinogenesis in hamsters) | Caspase-independent apoptosis through ROS-mediated p38 MAPK and JNK activation in SCC-15 OSCC cells; inhibited the tumors number in buccal pouches in hamsters treated with DMBA | [67] |
| Esophageal cancer (TE-1 and TE-4 cells) | Reduced p-Akt and cyclin D1 expression; increased caspase-3 expression | [68] |
| Sarcoma 180 ascites | Lack of mechanism studies | [64] |
| Ovarian cancer (CaOV-3 cells) | Cytotoxic (lack of accessible information) | [62] |
XNT in cancer treatment
Although XNT has been researched extensively as an antiproliferative and antitumor agent, several issues should be considered for its safety and efficacy use. For example, different biological outcomes have been reported upon the treatment of combined XNT with other compounds or drugs in breast cancer and esophageal cancer. Also, cytoselectivity of XNT has been discussed in this section.
Breast cancer
XNT-curcumin interaction
When combined XNT-curcumin was added to MDA-MB-231 cells, the treatment reflected synergistic growth inhibition as compared to XNT alone [18]. Increased apoptosis index such as alteration of membrane potential, DNA condensation, DNA fragmentation and cell shrinkage have been observed. Simultaneous treatment has proven greater cytotoxic effect than sequential treatment with XNT and curcumin or vice versa [18]. Therefore, we believe that combined XNT-curcumin could be examined further for future anticancer studies.
XNT-tamoxifen interaction
Recent in vitro and in vivo studies of XNT-tamoxifen interaction conducted by Noomhorm and colleagues have contributed new information on breast cancer treatment translational research. XNT was found to interact with tamoxifen increasing MCF-7 proliferative activity in vivo [33].
Tamoxifen is a common non-steroidal selective ER modulator used to treat pre-menopausal and post-menopausal women with receptor-positive, ER(+)/progesterone receptor (PR)(+) breast cancers [33]. Although this hormonal therapy is recognized as a gold standard in hindering tumor recurrence of hormone-responsive breast cancer, it always results both mild and serious unfavorable side effects. Co-treatment of XNT with tamoxifen in vitro demonstrated insignificant interaction, but the effects were remarkable in tumor-bearing mice. In vitro study of XNT-tamoxifen interaction showed that there was no remarkable significant difference between XNT + tamoxifen group and tamoxifen-alone group in terms of cell number, luciferase activity, percentage S-phage cells and LC3-II expression [33].
However, in vivo results reflected that XNT interacted with tamoxifen causing increased tumor volumes, tumor size, tumor weight and protein expression of p27 (kip1) and p38 in the MCF-7 implanted athymic nude mice model [33]. Repeated dosing of XNT may accumulate its effect in stimulating cell proliferative activity of MCF-7 cells in XNT + tamoxifen group compared to a single shot XNT treatment. Since p27(kip1) was upregulated in XNT + tamoxifen group compared to the tamoxifen-alone group, it was postulated that XNT may inactivate the functional properties of p27(kip1) resulting increased tumor growth. p27(kip1) is expelled from the nucleus rendering cell growth inhibition due to phosphorylation occurs at Ser of p27(kip 1). XNT also attenuated cytotoxic effects of tamoxifen against MCF-7 implanted nude mice, most probably via p38/MAPK signaling pathway [33].
Based on the cell type and stimuli, p38 MAPK exerts pro-apoptotic and anti-apoptotic effects [87]. A study conducted by Zhou and colleagues showed that suppression of p38 MAPK inhibited tumor growth in MCF-7 xenografts [88], whilst Bacus and colleagues reported that activation of p38 MAPK was essential for MCF-7 cells' apoptosis [89]. It exerts the pro-apoptotic action by phosphorylating and translocating Bcl-2 family's proteins, thus causing the mitochondrial release of cytochrome c [90]. Since p27(kip1) and p38 were over-expressed in this study, in vivo tumor-promoting effect of XNT-tamoxifen interaction may be probably due to the mutation occurred leading to protein p27(kip1) and p38 malfunction. Also, this herb-drug interaction may influence the output of p38/MAPK signaling pathway, where its upregulation promoted tumor growth in MCF-7 implanted nude mice. These findings supported that C. xanthorrhiza consisted mainly XNT should not be used in the long-term treatment of tamoxifen treated breast cancer patients [33].
Esophageal cancer
In TE-1 and TE-4 esophageal squamous cancer cell lines, double combination of XNT and astaxanthine or triple combination of XNT, astaxanthine and α-tocopherol exerted synergistic apoptotic effects [68]. They reduced not only the expression of p-Akt and cyclin D1, but also exhibited a higher caspase-3 expression than XNT's treatment alone in both esophageal cancer cells. On the other hand, previous studies indicated that combined astaxanthine and α-tocopherol did not exhibit any cooperative apoptosis, where they increased the expression of p-Akt and maintained caspase-3 levels compared to control [91]. In fact, astaxanthine or α-tocopherol treatment alone was effective against TE-1 and TE-4 esophageal cancer cells, but not their combination [91]. Thus, we postulate that the addition of XNT to astaxanthine and α-tocopherol may stimulate their antiproliferative properties giving synergistic effects.
Cytoselective and non-cytoselective effects
Cytoselective toxicity of a bioactive compound is hardly defined. A bioactive compound may be cytotoxic in certain cells while inactive towards others. XNT has been considered as cytoselective when it was tested on HeLa cervical cancer cells as compared to non-malignant Chang's Liver and MDBK cells [61]. EC50 value of XNT towards both cell lines was 4.7-fold and 2.8-fold higher than HeLa cells, respectively. Also, XNT was found to be more sensitive towards MCF-7 breast cancer cells than African green monkey kidney cells (COS-7) [20].
In another study [7], XNT was moderately cytoselective against Chang's Liver cells but lowly cytoselective towards Vero kidney cells compared to HepG2 liver cancer cells. IC50 value of XNT in both normal cell lines was 2.1-fold and 1.6-fold higher than HepG2 cells, respectively. Also, XNT exhibited less than twofold lower growth inhibition and cytotoxicity in both MDBK and Vero cells as compared to MDA-MB-231 breast cancer cells [63]. Surprisingly, non-cytoselective activity of XNT has been reported in normal fibroblast cell line CCD1114sk as compared to malignant melanoma HM3KO cells [62]. These results indicated that cytoselective and non-cytoselective effects of XNT depend on cell types and biological variation.
Perspectives
Although in vivo studies reported that 500 mg/kg of XNT was not toxic to mice [56], we propose that in vivo pharmacokinetic and pharmacodynamic studies are required to further evaluate its efficacy and safety profiles before going for clinical trials. This is because the process by which a compound is absorbed, distributed, metabolized and eliminated in vivo are always far more complicated than in vitro systems [92]. The primary goals of pharmacokinetic studies are to enhance efficacy and reduce toxicity. In complex biological systems, the relationship between drug concentration at the site of action and its pharmacological response could be determined via pharmacodynamic approaches [92]. We suggest that in vivo rodent pharmacokinetic and pharmacodynamic studies of XNT should be conducted to ensure it has appropriate pharmacokinetic and pharmacodynamic properties to be investigated in clinical pharmacology and safety studies.
Since there is no information is available about genotoxicity, carcinogenicity and reproductive toxicity of XNT, future study on these areas would contribute important knowledge to the community and thus benefit/risk ratio could be determined. In fact, understanding the benefit/risk ratio is foremost important in drug prescription [93]. It is important to evaluate the toxicity of potential bioactive compound to improve the therapy effectiveness on humans and prevent devastating effects. As genotoxic effects are hardly detectable in human health, several toxicity tests could be used to assess the safety profile of XNT. In vitro and in vivo genotoxicity testing of pharmaceuticals are referred to International Conference on Harmonisation of Technical Requirements for Registration of Pharmaceuticals for Human Use (ICH)-harmonized guidance [94]. In vitro tests incorporate gene mutation in bacteria and cytogenetic evaluation of chromosomal damage and/or a test that detects gene mutation in mammalian cells. On the contrary, in vivo tests incorporate chromosomal damage using rodent hematopoietic cells and long-term assays for carcinogenicity in two different species such as mice and rats [94].
Conclusion
The preceding sections have provided the importance of XNT as a pharmaceutical agent in disease management including cancer, infectious disease (bacteria, candida, fungi), inflammatory disease, metabolic syndrome (hyperglycemia and hypertension) and platelet disorder. It also has antioxidant, estrogenic and anti-estrogenic, nephroprotective and hepatoprotective effects. To conclude, XNT is a very potent bioactive natural compound that could fulfil the current need for new drug discovery especially in anticancer therapeutics. However, herb-drug interaction, pharmacokinetic and pharmacodynamic studies, possible genotoxicity, carcinogenicity, reproductive toxicity and clinical studies require further investigation in order to establish XNT as a standard drug.
Declarations
Authors' contributions
All authors read and approved the final manuscript.
Acknowledgements
This work was supported by a Grant from ZACH Biotech Depot Sdn. Bhd. and Research Management Centre UPM (ZACH/UPM/2015).
Competing interests
The authors declare that they have no competing interests.
Open AccessThis article is distributed under the terms of the Creative Commons Attribution 4.0 International License (http://creativecommons.org/licenses/by/4.0/), which permits unrestricted use, distribution, and reproduction in any medium, provided you give appropriate credit to the original author(s) and the source, provide a link to the Creative Commons license, and indicate if changes were made. The Creative Commons Public Domain Dedication waiver (http://creativecommons.org/publicdomain/zero/1.0/) applies to the data made available in this article, unless otherwise stated.
Authors' Affiliations
(1)
Department of Biology, Faculty of Science, Universiti Putra Malaysia-UPM, Serdang, Malaysia
(2)
Department of Chemistry, Faculty of Science, Universiti Putra Malaysia-UPM, Serdang, Malaysia
(3)
Department of Biochemistry, Faculty of Science and Technology, Universiti Kebangsaan Malaysia-UKM, Bangi, Malaysia
(4)
ZACH Biotech Depot Sdn. Bhd., Cheras, Malaysia