Survivin: a unique target for tumor therapy
Cancer Cell International
2016
16:49
Received: 17 February 2016
Accepted: 10 June 2016
Published: 23 June 2016
Abstract
Survivin is the smallest member of the Inhibitor of apoptosis (IAP) family of proteins, involved in inhibition of apoptosis and regulation of cell cycle. These functional attributes make Survivin a unique protein exhibiting divergent functions i.e. regulating cell proliferation and cell death. Expression pattern of Survivin is also distinctive; it is prominently expressed during embryonal development, absent in most normal, terminally differentiated tissues but upregulated in a variety of human cancers. Expression of Survivin in tumours correlates with not only inhibition of apoptosis and a decreased rate of cell death, but also resistance to chemotherapy and aggressiveness of tumours. Therefore, Survivin is an important target for cancer vaccines and therapeutics. Survivin has also been found to be prominently expressed on both human and embryonic stem cells and many somatic stem cell types indicating its yet unexplored role in stem cell generation and maintenance. Overall, Survivin emerges as a molecule with much wider role in cellular homeostasis. This review will discuss various aspects of Survivin biology and its role in regulation of apoptosis, cell division, chemo-resistance and tumour progression. Various molecular and immunotherapeutic approaches targeting Survivin will also be discussed.
Keywords
SurvivinImmunotherapyApoptosisIAPs
Background
Cancer is a heterogeneous group of diseases where abnormal cell growth with potential to invade other body parts takes control of normal homeostasis and becomes fatal if not timely and rightly treated. While standard treatments like surgery, chemotherapy or radiotherapy have significantly improved the disease outcome, occurrence of drug resistance and metastatic spread of the disease still remains a tough challenge. Substantial data suggests that immunotherapy could serve as a powerful weapon to prevent metastatic spread of cancer. Immunotherapy specifically targets tumor cells thereby avoiding collateral damage to non-tumor cells. Induction of anti-tumor response also has the potential to eradicate tumor at distant sites in the body which may not be possible by surgical resection. Induction or enhancement of anti-tumor immune response is a formidable challenge in cancer because tumor cells use multiple evasion strategies and avoid being detected or eliminated by immune cells. Resistance to apoptosis is one important evasion mechanism by which tumour cells escape detection by immune cells and promote their proliferation at the same time. Therefore, molecules involved in regulation of apoptosis can be potential targets for tumor therapy including immunotherapy.
Inhibitor of apoptosis protein family (IAPs) is an important group of proteins involved in regulation of apoptosis. IAPs also have an important role in regulation of T cell responses in anti-tumor immunity. One member of this protein family, Survivin occupies a key position because of overexpression in cancer cells. It is speculated that Survivin overexpression in tumor cells promotes tumor progression by multiple pathways such as dysregulation of apoptosis and cell division, altered sensitivity to antitumor drugs or promoting survival of cancer stem cells. Survivin can serve as a universal tumor antigen because it is expressed in most human malignancies and has the potential to trigger immune effector responses. Therefore, blocking Survivin function by various immunotherapeutic or molecular approaches is emerging as a promising therapeutic strategy in cancer. This review will discuss various aspects of Survivin biology and multiple approaches to block Survivin in tumor cells.
IAP family and Survivin
Inhibitors of apoptosis (IAP) family of proteins are found in almost all species from lower to higher vertebrates. Initially identified in baculoviruses as apoptotic suppressors, eight IAP homologs namely neuronal apoptosis inhibitory protein (NAIP), baculoviral IAP repeat-containing protein 2/human inhibitor of apoptosis protein-2 (c-IAP1/HIAP-2), baculoviral IAP repeat-containing protein3/human inhibitor of apoptosis protein-1 (c-IAP2/HIAP-1), X-linked inhibitor of apoptosis (XIAP), IAP-like protein 2 (ILP2), melanoma inhibitor of apoptosis protein (MLIAP), Survivin, and BIR repeat-containing ubiquitin enzyme system (BRUCE) have been identified in humans till date [1–10]. IAPs are functionally and structurally similar and function in regulation of programmed cell death [11–13]. Since IAPs are an important protein family which regulate cell fate in response to stress signals or genomic instability, therefore any dysregulation in IAP function has an obvious association with cancer development, induction of oncogenesis or drug resistance [14]. Investigating the mechanism of action of IAPs in cancer has provided important leads for anticancer drug development.
Structurally, all members of IAPs contain approximately 70 amino acid long Baculovirus IAP Repeats (BIR) domains at the N-terminus, which are essential but not sufficient for their anti-apoptotic activity [15]. Although the number of BIR domains varies among IAP members, each BIR domain is made up of cysteine and histidine residues in a well-defined pattern (Cx2Cx6Wx3Dx5Hx6C), which represents a novel zinc-binding fold. In addition to BIR domain, several viral, mammalian and insect IAPs require a ring finger domain (RING) near the C-terminus for suppression of apoptosis [9, 16]. However, C-terminal RING is not indispensable for suppression of apoptosis by human c-IAP1, c-IAP2 and XIAP [17, 18]. Human cIAP-1 and cIAP-2 also contain a Caspase Recruitment Domain (CARD), significance of which is not clearly understood during apoptosis suppression. IAPs also possess additional domains; ubiquitin-associated (UBA) domain (in c-IAP1, c-IAP2, XIAP and hILP2) and ubiquitin-conjugating (UBC) domain (in BRUCE/APOLLON), these domains assist in inducing ubiquitination and proteasome degradation of specific caspases and suppression of apoptosis [6, 19, 20]. Of all the IAPs known so far, Survivin is the smallest IAP protein with a single N-terminus BIR domain and C-terminus Coiled Coil (CC) domain. As compared to other IAPs, Survivin exhibits most restricted expression in adult tissues and has crucial role in regulating both cell division and apoptosis. It is highly expressed in most human cancers but not in normal, terminally differentiated adult tissues, thus making Survivin an exciting new tumour marker [5].
Molecular organization and structure of Survivin
Survivin is encoded by
BIRC5
gene and consists of 4 exons and 3 introns covering 14,796 nucleotides on chromosome 17q25 forming transcripts with varied functional domains. The
BIRC5
gene encodes wild type Survivin (WT, four exons; 142 amino acid) and five known additional splice variants i.e.; ΔEx3 (Survivin with deletion of exon 3; 137 amino acid), 2B (Survivin with an additional exon; 165 amino acids), 3B (five exons; 120 amino acid), 2α (2 exons;74 amino acids), 3α (two exons;78 amino acids) [
21
–
23
]. All Survivin isoforms share complete sequence identity in the N-terminus region, including some or the entire BIR domain, but they differ in the carboxyl end [
24
]. Figure
1
illustrates the various splice variants of Survivin and the amino acid alterations present in each splice variant. Survivin isoforms also have different expression patterns and cellular localization as compared to wild type form, Survivin-ΔEx3 is found predominantly in the nucleus where as Survivin- 2B is found in the cytoplasm. Alternative splicing of Survivin has been shown to have correlation with disease activity in various patient studies. Survivin WT, 2B and ΔEx3 variants have been extensively investigated for clinical and prognostic association in cancer. Presence of ΔEx3 variant has been associated with unfavourable clinical outcome and prognosis [
25
]. Conflicting data exists for clinical and pathological correlation of variant 2B in cancer; certain studies demonstrate association of 2B variant with aggravated disease and poor survival [
26
] while some studies indicate that presence of 2B variant is associated with less severe disease [
27
]. Overall, there is a consensus that ΔEx3 is anti-apoptotic and 2B is pro-apoptotic and that these variants may perform contrasting functions in tumor progression and response to therapy [
28
]. Presence of Survivin isoforms has also been shown to influence angiogenesis. In a study by Doucette T et al., presence of Survivin splice variant 2 was associated with poorer survival and promoted malignant progression, angiogenesis, and shorter tumor-free survival in mouse model of glioma [
29
].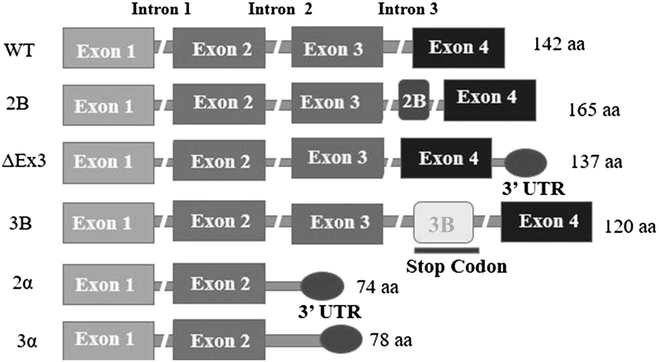 It still remains unclear whether alternative splicing of Survivin is an adaptation used by cancer cells to support their proliferation and avoid detection by immune surveillance Association of splice variants with distinct pathological and survival outcomes indicate possible role of these variants in disease progression. However, relative contribution of different splice variants of Survivin with tumorigenesis, immune evasion and response to therapy is not completely understood and warrants further investigation.
Cellular localization of Survivin
Survivin is predominantly present in the cytosol of tumour cells. However, a smaller nuclear fraction of Survivin localizing to kinetochores of metaphase chromosomes has also been reported in tumour and proliferating cells, indicating that these different subcellular pools of Survivin may have different functions [30, 31]. Cytosolic Survivin is believed to function as apoptotic suppressor while nuclear Survivin is postulated to regulate cell division. However, the pathological significance of nuclear Survivin as a favourable prognostic marker for tumour cells is still debatable. There is equivocal data from patient studies to indicate nuclear/cytosolic Survivin expression as an unfavourable or favourable prognostic marker in cancer [31]. Apart from cytosolic and nuclear pool, Survivin has also been detected in mitochondrion [32] and shown to be released into cytosol in response to cellular stress stimuli and suppress caspase activation [32]. Extracellular pool of Survivin has also been shown to exist as exosomes in form of 40–100 nm membrane vesicles secreted from tumour cells and taken up by surrounding cells [33]. In fact, many IAPs such as cIAP1, cIAP2 and XIAP including Survivin have been shown to exist as tumour exosomes in cancer cell lines [34]. Exosomes containing Survivin have been shown to re-enter cells and promote tumour growth. Khan et al. have demonstrated that extracellular pool of Survivin has the ability to cause neighbouring cancer cells to increase resistance to therapy, rapidly proliferate, and acquire an increased potential to become invasive in vitro [35, 36]. Increased levels of plasma derived exosomal Survivin from prostate cancer patients has been shown to correlate with disease severity [37]. Thus, both intracellular and extracellular release of Survivin in cancers may be responsible for aggravated disease.
Multiple roles of Survivin
Conclusions
Survivin has emerged as a unique and nodal molecule mediating diverse roles in cancer cells. However occurrence of different subcellular pools and splice variants of Survivin complicate the biology of this molecule. Occurrence of particular splice variants in various stages of tumor development needs to be thoroughly investigated for therapeutic translation of Survivin blocking approaches. It is also intriguing to note that differential cellular localization of Survivin has different functional outcomes. While its role in cell division and apoptosis has been substantially investigated there is still paucity of data on contribution of Survivin to immune evasion by tumor cells. Circulating tumor cells also express high levels of Survivin and may also be responsible for immune escape of tumor cells. Chronic inflammation and immune evasion may work synergistically to induce Survivin upregulation on tumor cells. Nonetheless, there has been an increasing interest to develop immunotherapeutic approaches targeting Survivin because of its prominent role in cancer development and ability to induce an effective CTL response. Several studies have shown promising results in preclinical evaluation while some have advanced to stage- I or -II clinical trials. The safety and toxicity profile for Survivin has also shown promising outcome. Figure
4
summarizes conceivable benefits of using Survivin inhibitors or immunotherapeutic approaches using Survivin as an antigen. Given the tremendous heterogeneity in human cancers, translational development for Survivin based vaccines or inhibitors of Survivin may even show better results if used in combination with traditional therapies. Combinatorial therapy using Survivin as vaccine and immune checkpoint blockade (PD-1, CTLA-4 etc.) may also be considered for an efficient anti-tumor immune response.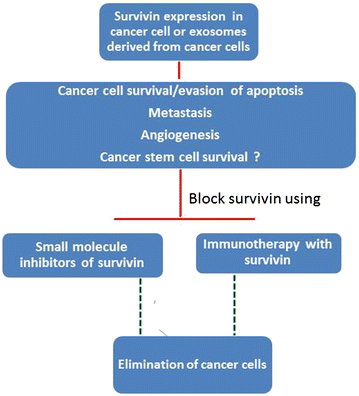 Declarations
Authors' contributions
All authors read and approved the final manuscript.
Acknowledgements
SD acknowledges funding support from Department of Science and technology/SERB, India, Grant sanction number (SR/FT/LS-75/2012). SD also acknowledges infrastructural support from Dr. Ashok K. Chauhan, Founder President, Amity University Uttar Pradesh and Prof. Narayan Rishi, Advisor, Amity Institute of Virology and Immunology, Amity University Uttar Pradesh, Noida, India.
Competing interests
The authors declare that they have no competing interests.
Open AccessThis article is distributed under the terms of the Creative Commons Attribution 4.0 International License (http://creativecommons.org/licenses/by/4.0/), which permits unrestricted use, distribution, and reproduction in any medium, provided you give appropriate credit to the original author(s) and the source, provide a link to the Creative Commons license, and indicate if changes were made. The Creative Commons Public Domain Dedication waiver (http://creativecommons.org/publicdomain/zero/1.0/) applies to the data made available in this article, unless otherwise stated.
Authors' Affiliations
(1)
Amity Institute of Virology and Immunology, Amity University Uttar Pradesh, Noida, India
(2)
Amity Institute of Biotechnology, Amity University Uttar Pradesh, Noida, India
(3)
Talwar Research Foundation, New Delhi, India