Primary research

Open Access
Targeted inhibition of heat shock protein 90 disrupts multiple oncogenic signaling pathways, thus inducing cell cycle arrest and programmed cell death in human urinary bladder cancer cell lines
Cancer Cell International
2013
13:11
Received: 2 November 2012
Accepted: 30 January 2013
Published: 8 February 2013
Abstract
Background
Geldanamycin (GA) can be considered a relatively new component with a promising mode of action against human malignancies. It specifically targets heat shock protein 90 (Hsp90) and interferes with its function as a molecular chaperone.
Methods
In this study, we have investigated the effects of geldanamycin on the regulation of Hsp90-dependent oncogenic signaling pathways directly implicated in cell cycle progression, survival and motility of human urinary bladder cancer cells. In order to assess the biological outcome of Hsp90 inhibition on RT4 (grade I) and T24 (grade III) human urinary bladder cancer cell lines, we applied MTT assay, FACS analysis, Western blotting, semi-quantitative (sq) RT-PCR, electrophoretic mobility shift assay (EMSA), immunofluorescence and scratch-wound assay.
Results
We have herein demonstrated that, upon geldanamycin treatment, bladder cancer cells are prominently arrested in the G1 phase of cell cycle and eventually undergo programmed cell death via combined activation of apoptosis and autophagy. Furthermore, geldanamycin administration proved to induce prominent downregulation of several Hsp90 protein clients and downstream effectors, such as membrane receptors (IGF-IR and c-Met), protein kinases (Akt, IKKα, IKKβ and Erk1/2) and transcription factors (FOXOs and NF-κΒ), therefore resulting in the impairment of proliferative -oncogenic- signaling and reduction of cell motility.
Conclusions
In toto, we have evinced the dose-dependent and cell line-specific actions of geldanamycin on cell cycle progression, survival and motility of human bladder cancer cells, due to downregulation of critical Hsp90 clients and subsequent disruption of signaling -oncogenic- integrity.
Keywords
Bladder
Cancer
Hsp90
Geldanamycin
Signaling
Background
Heat shock protein 90 (Hsp90) is an abundant intracellular protein that has emerged as a significant target of modern cancer therapeutic protocols. Hsp90 normally accounts for ~1-2% of the total protein content of the cell, while under stress conditions its levels increase up to ~4-6% of the whole cytosolic proteomic load[1–3]. Hsp90 chaperone activity depends on its transient dimerization, which stimulates the essential, intrinsic ATPase function. The Hsp90 chaperone complex maintains the correct conformational folding, functional integrity and proteolytic turnover of a broad range of protein clients that are implicated in various signal transduction pathways controlling, among others, cell survival and proliferation[2, 4]. Moreover, a number of oncogenic proteins critically depend on the Hsp90 molecular chaperone to obtain an active conformation and a functional capacity. Hsp90 upregulation in several malignancies and solid tumors unveils a likely "protective" role of the chaperone in tumorigenesis, serving as a "biochemical buffer"[5]. Hsp90 represents an indispensable part of a complicated machinery called "chaperosome" that allows cancer cells to escape normal regulation and function. Hence, cancer initiation, tumor progression and its clonal evolution are associated with a requirement for increased intracellular levels of Hsp90[6–8]. Therefore, due to cancer cell dependence upon specific -oncogenic- Hsp90 protein clients, Hsp90 inhibition is thought to negatively interfere with critical oncogenic signaling pathways involved in the hallmark traits of cancer (i.e. sustaining cell proliferation, resisting cell death, and promoting invasion and metastasis)[9], demonstrating exciting prospects in the future of cancer therapeutics[10].
Urinary bladder cancer ranks second in frequency among malignancies of the genitourinary tract and is the fifth most commonly diagnosed non-cutaneous neoplasm of the industrialized world, accounting for more than 4% of all types of cancer worldwide[11–13]. A significant percentage of bladder cancer patients (~70-80%) initially present with highly differentiated, non-invasive papillary tumors, whereas the rest (~20-30%) develop an aggressive muscle-invasive tumor of low differentiation. Although the vast majority of patients are diagnosed with superficial tumors, ~30% of the initial cases are estimated to recur to invasive forms within a time-span of two years. On the other hand, more than ~50% of the patients with primarily invasive tumors develop metastases over a time-period of two years, while the five-year survival rate for metastatic disease is calculated as low as ~5%[14]. Human urothelial tumors are known to evolve along two major and independent biological axes, each presenting with diverse and discrete genetic alterations controlling tumor initiation and progression[15, 16]. The complexity of the molecular pathways involved in bladder cancer onset, combined with the various genetic and epigenetic events that occur during tumor progression, are mainly responsible for the great heterogeneity of the disease[17, 18]. Established systemic chemotherapy regimens -with conventional drugs- or bladder irradiation have not presented with strong potency against superficial and metastatic urothelial carcinomas, while new clinical protocols designed for targeted therapy are currently tested as second generation treatment-strategy[19].
In this context, we have, herein, examined the effects of geldanamycin, a prototype member and "parent" compound of a group of antibiotics widely known as benzoquinone ansamycins (BAs), on human tumorigenic urothelium. Geldanamycin proved the first natural product carrying Hsp90 inhibitory properties that was able to critically interfere with a complex network of oncogenic signaling pathways regulating survival, proliferation and motility of the two -representative for the disease- human urinary bladder cancer cell lines, of diverse malignancy grade and p53 genetic content, RT4 (grade I; wild-type p53) and T24 (grade III; mutant p53). In terms of morphology, genetic content, response to stress, tumorigenicity and metastatic potential, RT4 and T24 cell lines reliably reflect the in vivo cellular environments of low and high grade bladder malignancies, respectively, in affected human patients.
Conclusions
In this study, we have demonstrated the anti-neoplastic properties of the benzoquinone antibiotic geldanamycin in human urinary bladder cancer cell lines of different malignancy grade. The obtained results proved the dose-dependent and prominent elimination of "hallmark traits" of cancer in both RT4 and T24 cells upon geldanamycin-induced inhibition of Hsp90 molecular chaperone (Figure
10
). Drug-mediated downregulation of multiple Hsp90 protein clients in bladder cancer cellular environments resulted in cell cycle arrest, disruption of tumorigenic signal transduction integrity, and impairment of cell motility and invasion mechanisms, whereas cell death programs in the form of apoptosis and autophagy were strongly activated in response to geldanamycin. Pre-clinical
in vivo
studies have reported side effects of systemic hepatotoxicity[
33
], hence limiting the "wide-spreading" utilization of the drug in human malignancies. However, orthotopic administration of -clinically relevant- low doses of geldanamycin into the affected bladder could prove an effective therapeutic approach, initially sensitizing tumors to chemoradiotherapy (CRT) protocols, not only by successfully deploying a combinatorial "attack" to multiple oncogenic pathways involved in "hallmark traits" of cancer, but by simultaneously circumventing hepatic toxicity of the drug.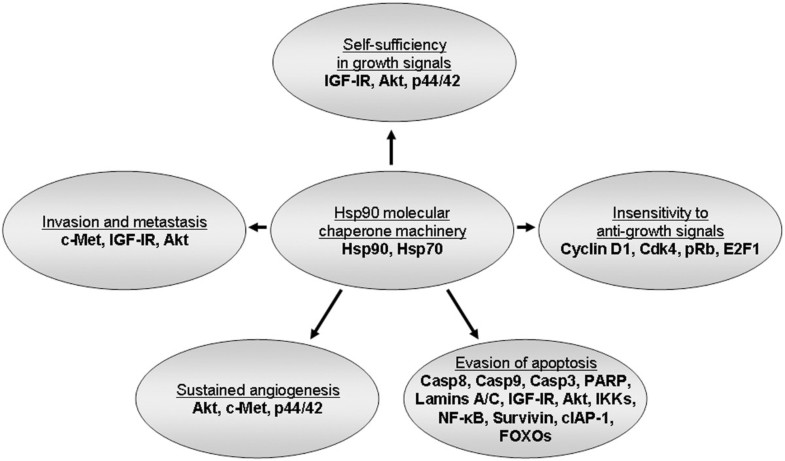 Materials and methods
Drugs and reagents
Geldanamycin was obtained from InvivoGen (San Diego, California, USA). Antibodies against Hsp90α/β, Hsp70, Cdk4, pRb and E2F1 were supplied by Santa Cruz Biotechnology Inc. (California, USA), whereas the rest of the polyclonal and monoclonal antibodies used herein were purchased from Cell Signaling Technology Inc. (Hertfordshire, UK). Enhanced Chemilluminescence (ECL) Western blotting detection reagents were obtained from GE Healthcare Life Sciences (Buckinghamshire, UK). Oligonucleotide primers were synthesized by Operon (California, USA). All other chemicals were of analytical grade from Sigma-Aldrich (Missouri, USA), Fluka (Hannover, Germany) and AppliChem GmbH (Darmstadt, Germany).
Cell lines and culture conditions
The present study was performed using as a basic biological system two human urinary bladder cancer cell lines, namely RT4 and T24, both originating from urothelial carcinomas. RT4 cells were derived from a grade I tumor and obtained from the European Collection of Animal Cell Cultures (Salisbury, UK), whereas T24 cells were derived from a grade III tumor and provided to us as a generous gift from Professor J. R. Masters (Prostate Cancer Research Centre, Institute of Urology, University College London, London, UK). All cell culture media and reagents were supplied by Biochrom AG (Berlin, Germany).
Cell cycle analysis
Geldanamycin's effect on bladder cancer cell cycle progression was analyzed via FACS approach as previously described[23]. Cells were stained with propidium iodide solution (50 μg/ml) containing 250 μg of DNase-free RNase A and subsequently analyzed with a Beckton Dickinson's FACScalibur (California, USA) at 542 nm. Results were accordingly modified with the Modfit software program.
Cell viability assay
Cytotoxicity of geldanamycin was monitored by the methylthiazole tetrazolium (MTT) assay as previously described[23]. Spectrophotometric absorbance was measured in an ELISA microtiter plate reader (Dynatech MR5000, Dynatech Laboratories, Virginia, USA) at 550 nm, using measurement at 630 nm as reference.
Western immunoblotting
Whole cell protein extracts were prepared and appropriately resolved under denaturing conditions by SDS-Poly-Acrylamide Gel Electrophoresis. Nuclear and cytoplasmic protein extracts were obtained with the use of NE-PER extraction kit (Pierce, USA), while the subsequent immunodetection of NF-κB cellular compartmentalization was carried out using a suitable primary antibody. Membrane blocking, antibody incubation (diluted 1:1000 for all primary and 1:2000 for the two secondary antibodies used) and immunoreacting protein detection conditions were performed as previously described[23].
sqRT-PCR analysis
Total RNA from both control and drug-treated cells was extracted as previously described[23]. The respective gene names, DNA nucleotide sequences, annealing temperatures and number of reiterative PCR cycles for the utilized cDNA primers have been previously described[20]. Semi-quantitative (sq) PCR protocols of high stringency were appropriately applied, in order to reliably quantify the geldanamycin-induced differences of transcriptional expression profiles of the examined genes (Figures 1B, 5 and7C). The produced PCR fragments, after the suitable application of sqRT-PCR technology, were resolved in 2-3% agarose gels according to standard procedures[20].
Electrophoretic Mobility Shift Assay (EMSA)
Nuclear protein extracts from cells grown in the absence or presence of geldanamycin were examined for NF-κΒ-containing activity under non-denaturating conditions in Poly-Acrylamide Gel Electrophoresis. Annealed 5´ -biotin labelled oligonucleotide probes (sense: 5´ -AGTTGAGGGGACTTTCCCAGGC-3´ and antisense: 5´ -GCCTGGGAAAGTCCCCTCAACT-3´) were used in order to determine the binding capacity of NF-κB nuclear complex on its cognate DNA target sequence in EMSA reactions. Assays were carried out according to the Light-Shift Chemilluminescent EMSA kit instructions (Pierce, USA), whereas immunoreacting protein detection was performed as previously described[20]. Experiments were conducted three times.
In situ autophagy detection
Lysosomal-mediated programmed cell death was studied via the autophagy-specific and cell-reacting dye Lysotracker Red (Life Technologies Corporation, USA), and subsequently visualized under a Nikon EZ-C1 confocal microscope (Nikon Instruments Inc., Tokyo, Japan). Images were appropriately processed with the support of Nikon EZ-C1 software program. Experiments were repeated three times.
Immunofluorescence
Human urinary bladder cancer cells were seeded on poly-L-lysine coated slides (Thermo Fisher Scientific Inc., Minnesota, USA) and treated with a geldanamycin concentration of 10 μM for 24 h. Fixation, cell permeabilization and subsequent immunodetection were carried out as previously described[20]. Secondary antibodies used herein were the DyLight 488 (green) and DyLight 633 (red) (Thermo Fischer Scientific Inc., Minnesota, USA). Cells were observed under a Nikon EZ-C1 confocal microscope (Nikon Instruments Inc., Tokyo, Japan). Images taken were appropriately processed with the Nikon EZ-C1 software program. Immunofluorescence experiments were conducted three times.
Scratch-wound assay
Human urinary bladder cancer cells (5x105) were seeded on 100 mm diameter Petri dishes and allowed to grow for 24 h in the presence or absence of geldanamycin (10 μM). Scratch-wound assays were performed as previously described[20]. Cell images were taken under a Carl Zeiss Axiovert 25 inverted microscope (Thornwood, New York, USA), with the use of a Cannon Powershot G9 digital camera and a PS-Remote software program. Scratch-wound assays were repeated three times.
Declarations
Acknowledgements
We would like to thank Dr. Dimitrios Kletsas and Dr. Harris Pratsinis (Laboratory of Cell Proliferation and Ageing, Institute of Biosciences and Applications, NCSR "Demokritos", Athens, Greece) for their assistance in cell cycle analysis and valuable suggestions during the implementation of this study. We are also grateful to Dr. Athanassios Velentzas (Post-doctoral Fellow, Department of Cell Biology and Biophysics, Faculty of Biology, University of Athens, Athens, Greece) for his valuable help and technical support in confocal microscopy and imaging. Financial support to DJS and GEV was provided by the Empeirikeion Foundation (30-12-2009/Athens, Greece), the American College of Greece (01-11-2010/Athens, Greece), and the Greek Ministry of Health and Social Solidarity (ΔΥ2β/OIK.128320/30-11-2005).
Authors' Affiliations
(1)
Laboratory of Environmental Mutagenesis and Carcinogenesis, Institute of Biosciences and Applications, National Center for Scientific Research (NCSR) "Demokritos", Aghia Paraskevi, Athens, Greece
(2)
Department of Cell Biology and Biophysics, Faculty of Biology, University of Athens, Panepistimiopolis, Zografou, Athens, Greece
Copyright
© Karkoulis et al; licensee BioMed Central Ltd. 2013
This article is published under license to BioMed Central Ltd. This is an Open Access article distributed under the terms of the Creative Commons Attribution License (http://creativecommons.org/licenses/by/2.0), which permits unrestricted use, distribution, and reproduction in any medium, provided the original work is properly cited.